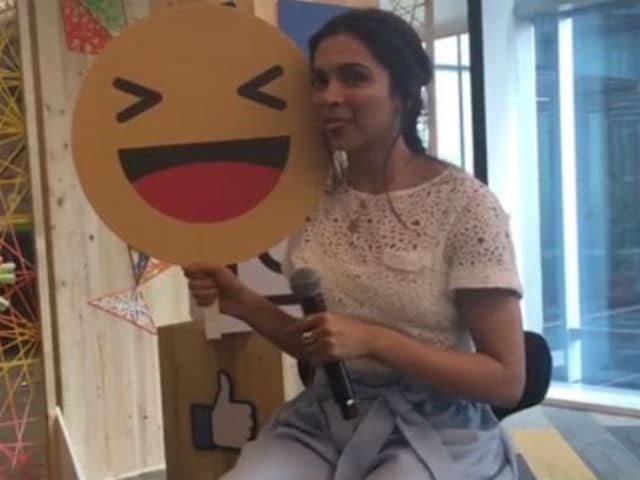 Highlights
One actor Deepika would want to work again with is Irrfan Khan
The actress finds cooking and doing house-hold chores therapeutic
Deepika will next be xXx: The Return of Xander Cage with Vin Diesel
New Delhi:
Actress Deepika Padukone went live on Facebook on Friday and shared some interesting facts about her life and work. For one, we have realized that the actress is unintentionally funny. For instance, she would like to be a vacuum cleaner. Why, you ask? Well, read on to know more such weird, wacky and endearing things about Deepika.
Fans gathered at the Facebook office back home and interacted with Deepika, who wore a white top and lilac flare pants. These gems came out of the conversation.
1. Deepika Padukone wants to be a vacuum cleaner
Well, this where we thought she was being funny, but no. One of the fans asked which super power she would like to have and Deepika said that she would want to be a vacuum cleaner because she just can't tolerate dirt and would like to suck up everything which is an eye sore.
2. One actor she would like to work again with? It is not her alleged beau actor Ranveer Singh
Or her former boyfriend actor Ranbir Kapoor. Deepika would love to work again with
her Piku co-star
Irrfan Khan. "Irrfan challenges me to do better," she said.
3. What inspires the
Bajirao Mastani
actress?
You and us. Yes. What we mean is that people inspire the actress. "I am a very quiet person and I like to observe people. In the cafes, at the airport, I like to think what would be their back stories. Where have they come from and where they intend to go. All these stories keep running in my mind," she said.
4. Deepika
BaniParvati
The actress said that in her free time she loves to stay at home and do house hold chores. In fact, when she was shooting for her Hollywood film
xXx: The Return of Xander Cage
in Toronto, she lived alone for almost 4 months and she loved cooking for herself, cleaning the apartment and doing her laundry. She finds it 'therapeutic'.
5. One thing Deepika loves the most. Any surprise there?
Yes. Now you would want to hear the name of a certain Singh but no. The actress says she loves sleeping and can practically sleep anywhere. Well, this is something she has in common with actress Katrina Kaif. Remember that funny video shared by Sidharth Malhotra, where Katrina can be seen sleeping with full make-up on in a car during the promotions of
Baar Baar Dekho
?
6. One wish Deepika would want the genie to grant is...
"I wish I could not work out and feel great," said the actress, who worked extremely hard to be in a
superb shape and match-up to ever-fit Vin Diesel
in
xXx: The Return of Xander Cage
.
7.
Piku 2
? Deepika would love it
When asked a role she would want to do, Deepika said
Piku
without batting an eyelid. The actress would love to reprise the role of Piku Banerjee because she wants to relive the whole experience of working with director Shoojit Sircar and actors Irrfan Khan and Amitabh Bachchan, she said.
8. Did you know Deepika said yes to
Piku
after listening to just one scene?
The actress reveals that she didn't have to hear the whole script. When Shoojit narrated the first scene of the film - where Piku can be seen getting ready for work, managing in the kitchen, giving medicines to
baba
(Big B)- Deepika instantly decided to do the film.
9. One thing which Deepika Padukone carries with her always
It is a pouch. And it has stuff like safety pins, needles, threads, hooks, band aids, nail filer, biscuits, mint, and perfume.
10. Being a sportsperson helps her handle criticism
"I have learnt a lot from my father. You need to be focused on your priorities. You need to know things which are important in your life. Criticism is good thing. Thanks to be being a sportsperson, you learn to use it in a positive way," Deepika said.
Deepika Padukone was recently
named the tenth highest paid actress
in the world by Forbes. She will next be seen in
xXx: The Return of Xander Cage
with Vin Diesel which is set to hit the screens in January 2017. The actress will soon start shooting for director Sanjay Leela Bhansali's
Padmavati
with Ranveer Singh.