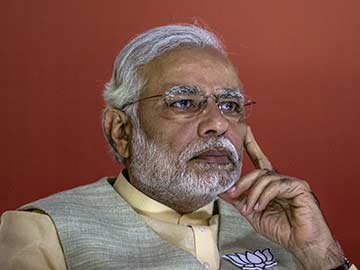 Ellen Barry, The New York Times:
During the last several years, as the yearning for a strong leader began to deepen and swell in the Indian electorate, one politician was systematically preparing himself to be the answer to that demand.
Narendra Modi
, leader of the Bharatiya Janata Party, has spent this campaign season standing above oceans of people - a stern, commanding figure who brags of his "56-inch chest." He has offered himself as a CEO for the nation, poised to slice through India's bureaucracy with the sure hand of an experienced manager.
(Narendra Modi's talk of '56-inch chest' draws acerbic response from Sharad Yadav)
This message has won him the confidence of India's working and middle classes, who are pinched by food inflation, disillusioned with the Gandhi dynasty and wearied of the corruption scandals that have accumulated around the governing Congress party.
(Elections 2014: Full Coverage)
The election, which began Monday as the first of India's 814 million registered voters cast ballots in the country's remote northeast, is less about policies than a desire for change.
(India Votes 2014: Candidates
|
Schedule
)
"The sentiment is that we have a slightly embarrassing leadership," said Siddharth Khanna, 27, a Delhi advertising executive. "We are seen to be lagging. We feel if we have strong leadership, we will be insulated from the effects of the global slowdown.
"We don't trust anyone, to be honest. But it might as well be someone who is aggressive in whatever stance he takes."
It has never been clear what kind of leader Modi would be, should his coalition win enough seats to form a government after nine waves of votes are counted May 16.
At 63, he has shown radically different faces to the world as he has risen through the political system: Before campaigning on a technocratic, good-governance platform, Modi was shaped by his years working as a propagandist for a Hindu-right organization, and he was widely blamed for bloody religious riots that broke out in the state he governed.
He is enthusiastically embraced by international corporations, but he also answers to an electoral base of small traders dead set against globalization.
His sometimes autocratic style may collide with several constraints, among them a boisterous press, activist courts and fractious allies, that have slowed his predecessors.
His method of governing may be determined by arithmetic. Opinion polls suggest that his National Democratic Alliance will emerge with the largest number parliamentary seats.
(NDTV Opinion Poll: BJP and allies to get 259 seats)
Though Hindus make up 80 percent of India's population, the country is a kaleidoscope of religious diversity, including a large Muslim population along with Christians, Sikhs and Buddhists. The constitution enshrines a secular state, and the country has a long history of accommodating a wide range of religious and ethnic diversity.
Modi will look to the margin of victory as a measure of his popular mandate, said Ashok Malik, a prominent columnist who has supported Modi's candidacy. A haul of 220 out of 545 seats in the lower house, he said, would signal "a mandate for revolutionary change."
For Malik, that mandate matters for economic reasons, giving Modi the independence to challenge powerful state lobbies and restructure the economy to create jobs and integrate India in global supply chains.
But Modi's critics worry that a sweeping victory would embolden Modi to pursue a risky and divisive Hindu nationalist agenda sought by some of his most loyal supporters.
"He will look around and decide what he can do - whether he can make India into a Hindu nation or not," said Nilanjan Mukhopadyay, the author of a biography of Modi. "If it takes too much risk, he will not do it. If he can, he will. Initially, he will focus on growth."
If Indians disagree about Modi's intentions, it is partly because he has reinvented himself several times. The son of a tea-stall owner in a small town, he traces his political awakening to the age of 8, when he began taking part in the evening drills of the Rashtriya Swayamsevak Sangh, a Hindu nationalist right-wing organization.
(Narendra Modi: the tea seller who could be PM)
The RSS offered him a way to break from family obligations, and he bucked his parents' authority by walking away from an arranged marriage in favor of years of ascetic wandering; a new biography, distributed to journalists by the BJP, said he was turned away from three monasteries, finally returning to full-time work for the RSS.
In a rare television interview broadcast last week, Modi credited the organization with shaping him. "I got the inspiration to live for the nation from the RSS," he said. "It inculcated discipline into me. I learned to live for others, and not for myself. I owe it all to the RSS."
Modi did not become famous for several decades after that, until he had risen through the ranks of the BJP to become chief minister of his home state, Gujarat.
By then, his ideological background had been thoroughly eclipsed by his international reputation as an effective manager. Corporate executives gushed about their experience in Gujarat, saying that Modi had increased efficiency by taking a tough approach with bureaucrats who worked under him. He asked judges to work extra hours to plow through a backlog of court cases, and put many state activities online, reducing corruption.
Rajeev Jyoti, managing director of Bombardier, a Canada-based aerospace and transportation company, recalled approaching Modi's office in 2007, after winning a contract to produce subway cars. Eighteen months later, the factory was built and operating, Jyoti said in an interview.
"It was incredible," he said, "and it was a world record within Bombardier."
One big event stained Modi's reputation. Months after he took control of Gujarat, in 2002, Hindu-Muslim riots erupted in the state, killing more than 1,000 people, most of them Muslims.
The violence was set off after a Muslim crowd attacked a train car carrying Hindu activists. The car caught fire, and 59 people burned to death inside, though a central government investigation found that the fire was an accident.
Police responded slowly, witnesses said, as unspeakable violence unfolded over several days.
At one point, a Hindu mob armed with stones, iron rods and homemade bombs surrounded a walled compound where Muslim families had taken refuge. The compound's owner, Ehsan Jafri, a former member of Parliament, spent hours making frantic calls to high-ranking officials, begging for police protection, but they arrived late, witnesses said.
Sixty-nine people, including women and children, burned to death with Jafri.
For years, Modi's critics have argued that he failed to take steps to halt the violence, and he has denied any responsibility. In a 2002 interview, he said his only regret about the episode was that he did not handle the news media better.
Late last year, an Indian court rejected a petition filed by Jafri's widow seeking Modi's prosecution in the riots. Modi greeted this decision as a victory, commenting via Twitter that "truth alone triumphs."
In an interview with foreign journalists last week, Arun Jaitley, a senior BJP leader, ruled out the idea that Modi would apologize, calling the persistent questioning "a fake campaign."
"Those asking for an apology wanted the apology to be an act of confession," Jaitley said. "If he has actually committed a mistake, why should he apologize? He should have been prosecuted and punished."
The question of who Modi really is - the steady-handed corporate leader or the Hindu-nationalist preacher - has been woven through this election season, as he took his place before throngs of men chanting his name.
Though his campaign has focused on job creation and development, his speeches have been scrutinized for religious content, and the BJP's manifesto, released Monday, was immediately examined for sops to the far right.
Prominent analysts have concluded that he has largely chosen to depart from the tenets of Hindu nationalism, either as a matter of political pragmatism or because his ideas have changed.
Shekhar Gupta, editor of The Indian Express, a daily newspaper, said the shift actually began many years ago, when Modi first saw "a chance for himself on the national stage."
"I sometimes joke that I've never seen a human being resemble his mask more than Mr. Modi," Gupta said. "The fact is that he will give you many new versions of that mask. The Mr. Modi you see today sounds very different - he looks the same, but he sounds very different from the way he sounded in 2007."
Gupta said that if the BJP wins, the next few years will see a "calmer, more catholic Mr. Modi." The reasons, he said, are purely practical.
"He wants to be in power for a long time," he said. "He is young by Indian standards, and that is not going to work with a purely polarizing agenda. What works in Gujarat doesn't work in India."
© 2014, The New York Times News Service