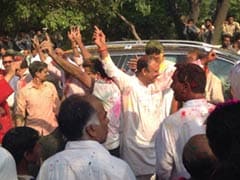 A massive victory for the BJP in riot hit Muzaffarnagar as Sanjeev Baliyan accused of inciting violence won by over 4 lakh votes, yet celebrations violating the Uttar Pradesh government's ban on victory processions in the area continued.
"We voted for Baliyan because he stands for development...against gunda raj of SP (Samajwadi Party)... Only BJP could defeat SP," said a BJP supporter amid victory celebration.
"We voted against 10 years of corrupt rule of Congress... We've won only because of development and only because of Modi," said another supporter.
Celebrations continued until evening even as 22 districts including Muzaffarnagar identified as sensitive post-riots remained under prohibitory orders
Mr Baliyan was part of the meeting which it was alleged, provoked people to violence that left over 60 dead.
Not just Muzaffarnagar there seemed to be clear polarisation of votes across western UP.
In Kairana, Hukum Singh another riot accused won by over one lakh votes. In Baghpath, Satyapal Singh defeated RLD chief Ajit Singh. In Meerut Rajendra Agarwal also won with a comfortable margin.
Perhaps, it was this speech by Amit Shah a week before the elections that exhorted Hindu to avenge their alleged humiliation, the Election Commission's censure notwithstanding there's no question that the BJP's victory is truly a historic a moment in Indian politics. And its domination in UP, especially in Western UP, has played a vital role. In riot hit Muzaffarnagar, the BJP insiders attribute these gains to strategy of polarization of votes scripted by none other than Amit Shah.