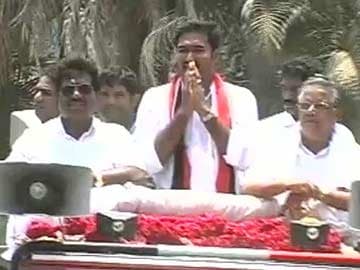 Chennai:
For five years, TKS Elangovan has represented North Chennai in Parliament. This time, the veteran leader of the regional DMK has switched to South Chennai and is taking on a young doctor. Dr Jayavardhan, 26, is the youngest candidate in Tamil Nadu in this election. (
Marginal decrease in Independent contestants in Tamil Nadu
)
The general practitioner is hoping that his age will appeal to voters cloistered in the IT hub of the city, but his promises are more old-school - in his election meetings, he promises to deliver the freebies - like laptops for students, and mixer-grinders for all families - that helped
Jayalalithaa
win the state election in 2011. "With the blessings of Amma, I will be able to fulfill all things promised to our voters," he says. (
Full Coverage: India Votes 2014
)
For Mr Elangovan, voters have tough questions about the corruption charges that have ringed in his party, mainly over the telecom scam that placed two senior DMK leaders - A Raja and M Kanimozhi - in jail (they are on bail now). As Telecom Minister in 2008, Mr Raja is accused of bestowing cheap mobile network licenses and airwaves to companies who allegedly bribed him. Mr Elangovan, 59, tells voters "These are manufactured cases, the evidence is already collapsing. (
India Votes: Candidates
|
Schedule
)
When asked about his very young opponent, the MP retorts, "I am youth. In my mind."
In South Chennai, the slums near the Besant Nagar beach jostle for development with the IT corridors that are seeing the arrival of fancy new multi-national companies. Some parts of the constituency seek basic development - working drains, running water. Others are hungry for new flyovers, advanced infrastructure. The relief map is, at the very least, intriguing and complicated.
The city votes on April 24.