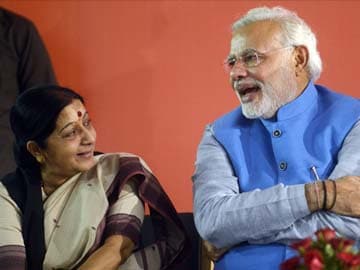 New Delhi:
Sushma Swaraj, India's new Foreign Minister, made an early start in her new role as she accompanied Prime Minister Narendra Modi on a series of bilateral meetings with South Asian leaders, including Pakistan Prime Minister Nawaz Sharif. (
Also read: On Narendra Modi's Day 1 as PM, Nawaz Sharif Among First Visitors
)
Ms Swaraj, 62, was the third minister to be sworn in on Monday after Mr Modi. (
Also read: Narendra Modi Takes Charge, Portfolios Now Official
)
She has many firsts to her credit; she was the youngest cabinet minister in the Haryana government at 25, she was also the first woman Chief Minister of Delhi.
Ms Swaraj has also been given the charge of Overseas Indian Affairs.
She takes charge at a time India's growing international influence has given it a prominent voice in global affairs even as issues in the region keep the largest democracy busy.
Ties with Pakistan and China are some of the perennial challenges for Indian foreign policy practitioners.
The foreign ministry also has a woman Foreign Secretary, Sujatha Singh.
Ms Swaraj, a law graduate who practised in the Supreme Court, has been elected seven times as a Member of Parliament and three times as a Member of the Legislative Assembly.
She began her political career with the Akhil Bharatiya Vidyarthi Parishad or ABVP, the student wing of the BJP's ideological mentor Rashtriya Swayamsevak Sangh.
She was Cabinet Minister for Information and Broadcasting in the 13-day Atal Bihari Vajpayee Government in 1996.
She resigned from the Cabinet in the next Vajpayee regime to take over as Delhi Chief Minister in October 1998.