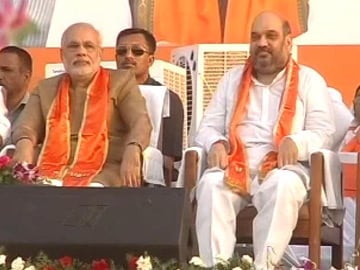 New Delhi:
In a move that offers a new advantage to the BJP and its prime ministerial candidate,
Narendra Modi
, a young woman has told the Supreme Court that she is "thankful" that the Gujarat police was assigned to tail her, and urged the judges to block investigations to determine whether the surveillance was legal and ordered by Mr Modi. (
Snoop-Gate's Four Unanswered Questions
)
"Snoopgate" is pivoted around allegations that secretly-recorded phone conversations reveal that as Gujarat Chief Minister, Mr Modi tasked his close aide
Amit Shah
, to ensure the woman was spied upon by top police officers. (
Amit Shah Slams Government Move on 'Snoopgate' Probe
)
The Gujarat government in December assigned a retired judge to investigate the allegations. The Congress controversially said just days ago that it would also appoint a judge for another inquiry. (
Congress Allies Agree with BJP Over Snoopgate Appointment
)
The BJP and key allies of the Congress objected immediately, arguing that a government whose term is about to expire has no right to make important appointments. Today, Law Minister Kapil Sibal confirmed that the government has aborted its plans to select a judge to inquest Snoopgate. (
Post Allies Attack, Government Changes Mind About Snoopgate Judge: Sources
)
The petition filed today in the Supreme Court by the woman at the heart of Snoopgate says her father and she are "thankful to the Gujarat government" for accepting a "personal request" to ensure her safety. The woman, who is now married, said she was aware of the surveillance and said that investigations would violate her privacy.
The Supreme Court will hear the case on Friday and may pass interim orders that neither Gujarat nor the Centre can proceed with an inquiry.
Mr Modi's high-octane campaign is expected to deliver the maximum seats to the BJP in the election. The Congress, floundering amid opinion poll predictions of a total rout, has been using Snoopgate to accuse Mr Modi of double speak on the issue of women's safety.