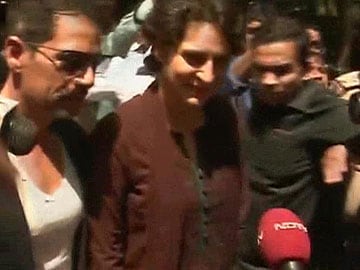 New Delhi:
Priyanka Gandhi will accompany her brother Rahul Gandhi for his campaign in his constituency Amethi in Uttar Pradesh, but her husband Robert Vadra has reportedly been asked to stay away.
"I am only going to campaign for my mother and brother, even though other Congress leaders have asked me," Priyanka told NDTV as she arrived to vote at a polling station in Delhi, along her husband. She is likely to accompany Rahul when he files his nomination papers on Saturday in the seat he has held since 2004.
(Round three of national election: the top 10 contests)
Priyanka, 42, oversees Sonia Gandhi's campaign in Raebareli but her absence was noticed last week when her mother filed her nomination papers, with Rahul chauffeuring her through town.
(Rahul Gandhi chauffeurs mother Sonia Gandhi in Raebareli)
Many linked this to the controversies surrounding her husband.
Mr Vadra, who has been repeatedly targeted by Narendra Modi this week for allegedly bagging sweetheart land deals in Congress-ruled Haryana, was today asked for the first time to respond to the allegations. "I have no comments to make," he told NDTV.
(Narendra Modi attacks Gandhi family over alleged land deals of Robert Vadra)
While her husband is keeping a low profile in this election, Priyanka, a mother of two young children, made it clear today that she would remain within Raebareli and Amethi.
(Elections: full coverage)
Many Congress leaders have asked her to campaign beyond the Gandhi family turf. Among them is Ajay Rai, the Congress candidate against Mr Modi in Varanasi, who says Priyanka has assured all possible help to him. Another party candidate Madhusudan Mistry, who is challenging the BJP's prime ministerial candidate in his second constituency, Vadodara in Gujarat, had also said he would be "grateful" if she campaigned for him.
(Madhusudan Mistry wants Priyanka Gandhi to campaign for him in Vadodara)