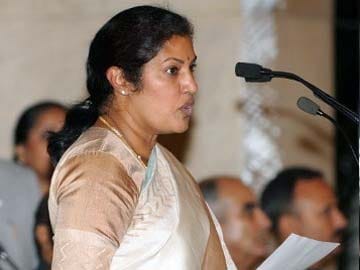 New Delhi:
D Purandeswari, a former Union minister and daughter of famous actor-politician NTR, today quit Congress and joined the BJP over the Telangana issue.
Ms Purandeswari, who joined the party in the presence of former BJP chief M Venkaiah Naidu, said she wants to contest from the Visakhapatnam Lok Sabha seat.
"The party (Congress) took the decision to bifurcate the state and all abided by it because it was the decision taken by the party. But unfortunately, the manner in which the bifurcation has taken place has hurt me," she said.
Ms Purandeswari, who was the Minister of State for Commerce and Industry, had resigned from the Congress after the Telangana Bill was introduced in the Lok Sabha last month.
"Former Union minister D Purandeswari joined the BJP today. I welcome her into the party fold," BJP president Rajnath Singh said after she met him at his residence.
Former JD(U) leader and MP from Aurangabad Sushil Kumar also joined BJP in presence of Mr Singh.
Ms Purandeswari earlier met senior BJP leader L K Advani at his residence and Leaders of Opposition in Lok Sabha and Rajya Sabha, Sushma Swaraj and Arun Jaitley.
Ms Purandeswari said she decided to quit Congress as she was left with no option after the bifurcation of Andhra Pradesh.