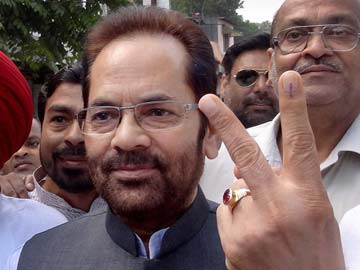 New Delhi:
BJP vice-president Mukhtar Abbas Naqvi on Monday said that a solution needed to be found to the Ram temple issue within the constitutional framework. (
Read BJP's poll manifesto
)
"No one should have a problem if a solution is found within the constitutional framework. The matter is presently sub judice, but it should be solved, not delayed," said Mr Naqvi.
Mr Naqvi was interacting with women journalists at the India Women's Press Corps (IWPC).
Asked if the demolition of Babri mosque in 1992 was in the constitutional framework, he said, "Ask this question to Congress - those who were the custodians of the site." (
BJP's 'Modi-festo' headlines economy, downplays Ram Mandir
)
"Though the state government was ours, the area (Babri mosque site in Ayodhya) was under central government's monitoring," Mr Naqvi said. (
India Votes 2014: Full coverage
)
Kalyan Singh led a BJP government in Uttar Pradesh in 1992 when the Babri mosque was demolished, while the PV Narasimha Rao-led Congress government was in power at the Centre.
Mr Naqvi, a prominent Muslim leader of the BJP, also admitted that
not enough Muslim candidates have been fielded in the Lok Sabha poll
, but added that his party would make up for it when they come to power.
"I agree there are very few Muslim candidates. But when we come to power, we will make up for it," he said.