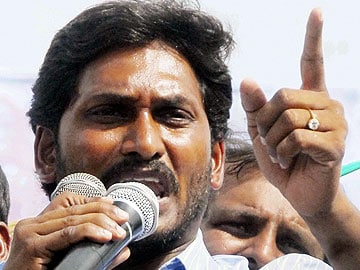 New Delhi:
Jagan Mohan Reddy may have spent 16 months in jail on charges of mega-corruption, but his three-year-old party is heading for gold in the national elections.
NDTV's opinion poll shows Mr Reddy's YSR Congress amassing 15 of the 25 parliamentary seats in Seemandhra - the non-Telangana regions of Andhra Pradesh.
The BJP, likely to ally with Chandrabau Naidu's TDP, is expected land nine seats, that's five more than it managed in the last general election.
The Congress is down to just one seat, dropping 20, as voters punish it for its decision to bifurcate Andhra Pradesh by carving out Telangana as India's 29th state.
Telangana will be founded on June 2. Despite unbridled resistance from its top leaders, the Congress pushed the proposal for a Telangana state through parliament, counting on being rewarded by voters there. For decades, Telangana has alleged that its resources - and the robust economy of IT hub Hyderabad - have been unfairly exploited by Seemandhra.
Hyderabad will be a shared capital between the old and new state for 10 years.
Jagan Reddy, 41, is the son of former chief minister YSR Reddy, who died in a helicopter crash in 2009. YSR was one of the Congress' most popular regional leaders. When the Congress side-lined him after YSR's death, Mr Reddy founded a new party to capitalise on the goodwill and popular support vested in his father.
In 2011, Mr Reddy declared that his assets total an astronomical Rs 365 crores. The CBI claims his father of misusing his post as Chief Minister to coerce companies into investing in Mr Reddy's vast business empire; in return, they were allegedly given the licenses and clearances needed to operate in Andhra Pradesh. Mr Reddy has denied any wrong-doing.