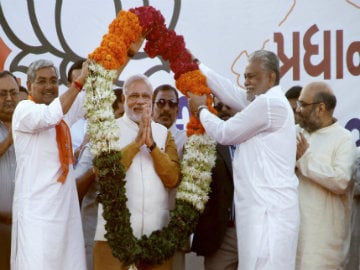 Ahmedabad:
Set to become Prime Minister, Narendra Modi on Friday bid an emotional farewell to his assembly constituency Maninagar in Ahmedabad and praised his close aide Amit Shah, the architect of BJP's spectacular poll victory in Uttar Pradesh.
"It has never happened in the history of India that an MLA has been given farewell. Usually, MLAs are thrown out by people (in elections) but organising a function (farewell) is never considered," Mr Modi said at the public meet in Maninagar, which is part of Ahmedabad city.
The Prime Minister-designate, who was elected to the Gujarat assembly from the constituency three times in a row, thanked the people for repeatedly having faith in him.
"Today, I came in a new role before you. Maninagar has ensured my victory three times and that too with more than 75 per cent votes," said Narendra Modi, who will resign as Chief Minister and member of Gujarat assembly on Wednesday.
"I remember when I came here during the 2012 assembly election campaign; you people were shouting 'PM PM'. I then tried to make you understand that this election is for CM and not for PM. But the voice of the masses is final," Mr Modi said.
"I have to submit my resignation (from Maninagar) very soon. I will ensure you people get a better MLA than me," the BJP leader said.
Praising Amit Shah, Mr Modi said "Amitbhai provided us more than double (Lok Sabha) seats in Uttar Pradesh. BJP won more seats in UP than what Congress secured in all states put together."
"This is the best example of what a Gujarati can do if given responsibility," Mr Modi said.
Mr Modi recounted his days spent in Maninagar and tried to strike a chord with the local residents.
"You, the people of Maninagar, can say with extreme pride to others that he (Modi) may be PM for you, but for us he will remain our Narendrabhai, who used to walk along Kanakaria lake, one who conducted shakhas (gathering of RSS volunteers) here, who drove a scooter on our street, who sipped tea in Jawahar Chowk (an area of Maninagar)."
Narendra Modi vowed to fulfil the promise made in regards to Maninagar's development. "I cannot forget the love given by the people of Maninagar. I have dreamt about development of Maninagar and Eastern Ahmedabad. These dreams will be fulfilled one day."
On his new role, Mr Modi expressed confidence about achieving success as Prime Minister since people's wishes were with him.
On the BJP's clean sweep in his home state, Mr Modi said, "Gujarat has given us all the 26 (Lok Sabha) seats and the winning margin of our candidates was in lakhs."
He said though he could not address an election rally in Ahmedabad this time, the people of the city worked themselves to ensure BJP's victory.
Mr Modi highlighted development in Maninagar on health and education fronts. "Maninagar has become an education hub in a very short period of time. Medical facilities available here are no way inferior to other developed areas."
"The mantra of development can change the life of ordinary people," the outgoing Chief Minister said.
Recalling the history of the high-profile Assembly segment, he said "very few people know that next year (2015), Maninagar will complete 100 years of its establishment."
"I wish AMC (Ahmedabad Municipal Corporation) forms a people's committee to celebrate Maninagar's centenary.
Citizens should be involved to make this centenary celebration a festival of development," Mr Modi added.