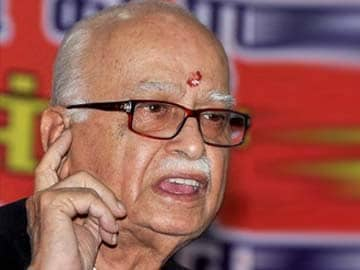 New Delhi:
The crisis within the BJP deepened late Wednesday night when LK Advani conveyed his displeasure to BJP leaders over the party's decision to field him from Gandhinagar in Narendra Modi's Gujarat, say sources.
Mr Advani, the BJP's senior-most leader, reportedly wants to shift to Bhopal in Madhya Pradesh this time.
Senior leaders Sushma Swaraj and Nitin Gadkari met Mr Advani at his home on Wednesday evening to convince him to accept the decision, taken by the parliamentary board made up of the party's top leaders and then endorsed by a subordinate larger group called the central election committee. Mr Advani, a member of both, skipped the meetings as details of his candidacy were being discussed.
After meeting Mr Advani, both Ms Swaraj and Mr Gadkari went to BJP president Rajnath Singh's house where they conveyed the party patriarch's unhappiness over the Central Election Committee's decision against his wishes.
The election committee also decided that Narendra Modi, the party's prime ministerial candidate, will contest a second seat, Vadodara, in Gujarat, apart from Varanasi in Uttar Pradesh.
At the meeting, Mr Modi reportedly insisted that Mr Advani contest from Gandhinagar, his seat for the last 16 years straight. Sources said the Gujarat chief minister emphasized that the state BJP had unanimously recommended that Mr Advani stand from Gandhinagar.
Leaders close to Mr Modi have argued that if Mr Advani moves out of Gandhinagar, Mr Modi's political opponents will attack him over such a senior leader's discomfiture at contesting from his state.
Facing a refusal from Mr Advani to contest from the seat he was nominated for, Mr Modi briefed Mohan Bhagwat, chief of the BJP's ideological mentor the Rashtriya Swayamsevak Sangh or RSS, on the meetings and the decision on Mr Advani's seat.
Mr Bhagwat had last year intervened to bring around Mr Advani when he staged a protracted protest over the party's decision to elevate Mr Modi as its face for the 2014 elections.
Mr Advani's already strained relationship with Mr Modi had nosedived at the time and though he has in recent speeches endorsed Mr Modi, he is reportedly worried about how much support he will get from local party workers in Mr Modi's Gujarat.
Madhya Pradesh on the other hand has as Chief Minister Shivraj Singh Chouhan, seen as someone Mr Advani is close to and trusts. He also managed a clean sweep of the state elections four months ago. BJP workers in MP had sought that Mr Advani contest from state capital Bhopal; posters featuring him sprang up in anticipation.