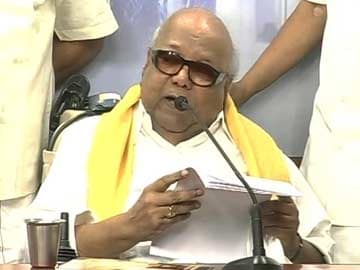 Chennai:
Asserting that DMK had the capability to face the polls with its existing local allies, party president M Karunanidhi today said there was no setback for his Democratic Progressive Alliance (DPA) in the absence of a national party in the combine.
"No. There is no setback," was his response to a question during a media interaction following the release of DMK's manifesto for the April 24 Lok Sabha polls.
DMK had shut the door on its former ally Congress, with whom it snapped ties over the Sri Lankan Tamils' issue in March last and spurned offers for revival of ties from the Sonia Gandhi-led party.
DMK announced candidates for 35 seats, leaving five to its allies - VCK (2) and one each for MMK, IUML and Puthiya Tamizhagam.
Tamil Nadu has 39 Lok Sabha seats and neighbouring Puducherry one.
Evading a direct response to CPI's announcement that it would not align with his party for the polls in the wake of the two Left parties' breaking away from the AIADMK alliance, Mr Karunanidhi said, "I didn't read today's papers," and that he had directly proceeded to this press
He said he did not expect any more allies to come into the DPA fold in the present circumstances.
When pointed out that BJP and Congress were projecting its leaders Narendra Modi and Rahul Gandhi for the Prime Minister's post respectively and asked who would be his party's choice, the leader quipped, "It will be one who is not
The multi-cornered electoral battle in Tamil Nadu will benefit the people, he said.
Earlier, releasing his party's manifesto, he said it contained DMK's "progressive thoughts" and had various proposals, including implementation of Sethusamudram Project, Sri Lankan Tamils' welfare, quota in the private sector and abolition of death penalty.