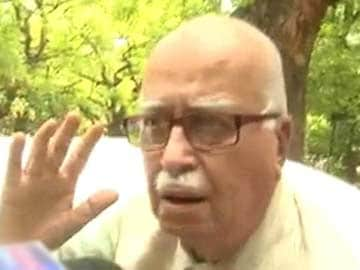 New Delhi:
As the BJP on Friday celebrated its historic victory in the national election, party patriarch
L K Advani
raised eyebrows when he suggested an assessment of how much
Narendra Modi
's leadership had contributed to the win. (
India Decides 2014: Track Live Results Here
)
"I think there should be a detailed analysis on this. It needs to be assessed as to how much contribution has been made by Narendra Modi's leadership, RSS and BJP towards the party's victory," Mr Advani said, asserting that the verdict was "against corruption, inflation and dynasty." (
NDTV Exit Poll: 279 for BJP and Allies, Congress in Double Digits
)
Mr Advani, who has shared tense ties with Mr Modi in the past year, congratulated him on the phone on the party's spectacular performance.
"We are winning in areas we have never won before. I believe corruption, inflation and bad governance were the main reasons for such results to come out," he told reporters.
Many would read between the lines to see Mr Advani's comments as a counter to those in the BJP who credited the party's best ever performance to a massive "Modi wave" across the nation.
Mr Advani emerged as a vocal Modi critic after he strongly opposed his elevation as the BJP's prime ministerial candidate last September.
The veteran had skipped the meeting in which Mr Modi was named the PM candidate, and also stayed away from a Goa conclave, where the Gujarat Chief Minister was declared chief campaigner for the national election.
Mr Advani quit all party posts in protest, but came around the next day after an intervention by the Rashtriya Swayamsevak Sangh, the BJP's ideological mentor.
Mr Modi and his core team, including BJP chief
Rajnath Singh
,
Nitin Gadkari
and
Amit Shah
have held several meetings to decide on Mr Advani's role in the new government.
Sources say Mr Advani is keen to be Lok Sabha Speaker and the party could give him that post. (read:
Advani could be Speaker, Sushma Swaraj wants top 4 ministry
)