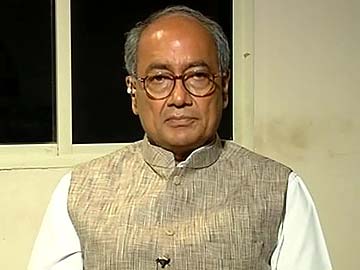 New Delhi:
Congress leader Digvijaya Singh has offered to run against
Narendra Modi
in Varanasi, Uttar Pradesh, party sources have said.
If his proposal is accepted, Mr Singh, 67, will take on the BJP's prime ministerial candidate and a man he has consistently targeted.
Mr Modi, 64, is being forecast by opinion polls as the front-runner for the country's top job.
Arvind Kejriwal
, the chief of the Aam Aadmi Party or AAP, has said that he is willing to contest the national election against Mr Modi, but wants to hear if this is what Varanasi wants. On March 25, he will hold a rally in the city to seek its advice, he has said.
Senior Congress leaders have suggested that the party must field a strong candidate against Mr Modi. In Varanasi, Congress workers have been pushing for a local candidate named Ajay Rai.
Digvijaya Singh has not contested a single election in the last 11 years, if the Rajya Sabha seat he just secured last month is discounted. In 2003, after suffering a colossal loss to the BJP in state elections in Madhya Pradesh, of which he had been chief minister then for 10 years, Mr Singh had banished himself from active politics and public office for a decade.
He stuck to that promise and instead worked for the party, holding charge of many states. He serves on most decision-making panels and is seen as one of Rahul Gandhi's closest advisers.
Mr Singh is part of a six-member committee that is strategically overseeing poll preparations under Mr Gandhi, who is Congress vice president and the man expected to be PM if his party bucks all polls and surveys to win a third term at the Centre.
Mr Singh's last date with UP was a disaster. As the Congress' general secretary in-charge of UP he was Mr Gandhi's key advisor for the crucial state elections of 2012. The Congress finished fourth in a four-cornered contest despite a high-octane campaign by Rahul Gandhi.
Digvijaya Singh had immediately owned "full responsibility." The UP result did not seem to have a bearing on Mr Singh's fortunes within the party, which also handed him the sensitive charge of Andhra Pradesh, now being bifurcated to create a separate Telangana state.