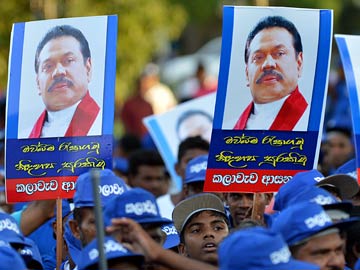 Chennai:
Sri Lankan President Mr Mahinda Rajapaksa has ordered the release of all Indian fishermen jailed in his country, ahead of his visit to New Delhi to participate in the swearing-in ceremony of prime minister-to-be Narendra Modi.
At least three fishermen from Tamil Nadu are currently lodged in Lankan jails on charges of narcotic smuggling.
Lankan authorities are not sure if the President's order is applicable to these three; India has maintained that these men face false charges.
This gesture by Mr Rajapaksa is seen as an attempt to quell the opposition to his visit by various political parties in Tamil Nadu.
MDMK, PMK and DMDK -- which are part of the BJP-led National Democratic Alliance -- have opposed the invite extended by Mr Modi.
Meanwhile, Tamil Nadu Chief Minister J Jayalalithaa today decided to boycott Mr Modi's swearing-in ceremony to protest Mr Rajapaksa's visit, said sources.
DMK chief Mr Karunanidhi has also spoken out against the invitation.
The issue of fishermen arrests has plagued ties between the two countries for a long time.
Nearly 200 fishermen from Tamil Nadu have been reportedly shot dead by the Sri Lankan Navy over the years for trespassing into Lankan waters; several others have been attacked and jailed periodically.
The Sri Lankan government has claimed that Indian fishermen, who continue to fish in its waters, are affecting the livelihood of the fishermen of the island nation.
Over 300 fishermen from India and Sri Lanka, lodged in a jail in the neighbouring nation on charges of trespassing into each other's waters, were recently released by both sides ahead of the official talks between fishermen from both countries.
Political parties from Tamil Nadu also accuse the Lankan government of violating human rights and committing war crimes against Lankan Tamils during the final phase of the civil war against the Liberation Tigers of Tamil Eelam.
In a major setback, Mr Rajapaksa's invitation to CV Wigneswaran -- the Chief Minister of Sri Lanka's Tamil-dominated Northern Province -- to join him during his visit to Delhi was turned down by him.
The BJP claims the invitation to Mr Rajapaksa is part of a decision to invite the heads of states of all SAARC (South Asian Association for Regional Cooperation) nations to Mr Modi's swearing-in.