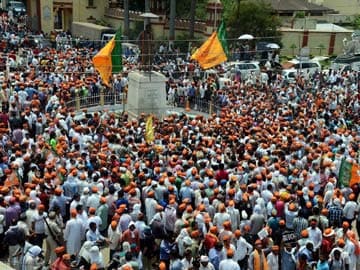 New Delhi:
With the BJP challenging its neutrality and the decision to disallow a rally by
Narendra Modi
in the heart of
Varanasi
, the Election Commission today said it "deplores attempts to cast aspersions on a constitutional body" and warned this could "cause long-term damage to the independence and neutrality" of the agency.
Mr Modi, the BJP's prime ministerial candidate, was denied permission to address a public meeting for security reasons, Chief Election Commissioner VS Sampath said today stressing "the lives of ordinary people and leaders were at stake." (
Track LIVE updates
)
BJP leaders like
Arun Jaitley
and
Amit Shah
held demonstrations against that decision in Varnasi today. Mr Modi addressed a rally on the outskirts of Varanasi, where he declared, "
The Election Commission does not make you win an election
." (
In Varanasi, BJP's Day of Protests
)
After that event, he will drive through the city to the BJP headquarters, a journey that is meant to serve as a show of strength in the constituency from where is contesting his first parliamentary election with the Aam Aadmi Party's chief
Arvind Kejriwal
as his main challenger. (
Massive Crowds Throng Narendra Modi's Roadshow in Varanasi: Latest Developments
)
The BJP says that it was first granted permission for Mr Modi's rally in Beniabagh, but that at midnight, the party was informed that the venue had been allotted to someone else. Later, Mr Jaitley said, the Election Commission's representative, Returning Officer Pranjal Yadav, misinformed the BJP that intelligence officials had counselled against Mr Modi using the location. (
Watch: Varanasi Debates Decision of District Magistrate Pranjal Yadav
)
In protest, the BJP last night said it was calling off two other events for Mr Modi which had been cleared by the Election Commission - a prayer ceremony or Ganga Poojan on the banks of the Ganga, and a meeting with 150 citizens at a hotel. The party says the written permission for those functions came through as late as 2 am, but which time it was too late to advertise the programmes. (
Modi Rally Permission Was Given, Then Withdrawn
)
Parties like the Left and Mamata Banerjee's Trinamool Congress have accused the BJP of an egregious crossing-of-the-line in its confrontation with the Commission.
"I cannot conceal my disappointment with the Election Commission. Men in constitutional offices need to be bolder.
Timid men can dwarf high offices
," BJP leader Arun Jaitley said today.