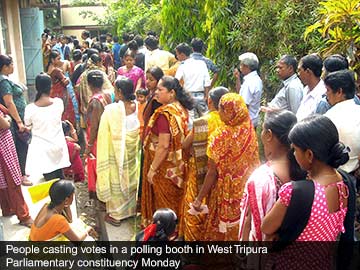 Agartala:
Around 60 per cent of the electorate had cast their votes till 2 pm on Monday as polling was held in one of the two constituencies in Left-ruled Tripura, an official said.
Balloting took place in Tripura West constituency. No untoward incident has been reported so far, the official said.
"Long queues of people were seen in most of the 1,605 polling stations as soon as voting began at 7 a.m. Clear sky with excellent weather encouraged voters to come to the polling booths early," Tripura Chief Electoral Officer Ashutosh Jindal told IANS.
Balloting will continue till 5 p.m, but can be allowed beyond the stipulated time if voters arrive at the polling stations by 5 p.m., he said.
"In some polling booths, due to technical snags in electronic voting machines, voting was delayed for a while, but engineers either replaced or rectified the EVMs and balloting started as usual," Jindal said.
Polling in the tribal reserved Tripura East constituency will be held April 12.
Around 1.2 million people are eligible to vote Monday to pick a Lok Sabha member from among 13 candidates. Almost all the candidates are first-time contenders.
In 2009, Khagen Das of the CPI-M defeated Sudip Roy Barman of the Congress.
This time, CPI-M's trade union leader Sankar Prasad Datta, Congress' Arunoday Saha, BJP state president Sudhindra Chandra Dasgupta, Trinamool Congress's state chief Ratan Chakraborty and Aam Aadmi Party's Salil Saha are among the aspirants.
The Left has won from West Tripura 11 times since the first Lok Sabha election of 1952 and the Congress four times.
The ruling CPI-M this time dropped both its sitting members - Das and Bajuban Reang (Tripura East), who has won the seat a record seven times since 1980.
The CPI-M is focusing on the development work it has done in Tripura, while attacking the Congress-led union government for poor governance, price rise and corruption in the country.
The opposition is focussing on the Left's misgovernance, unemployment and rising crimes against women.