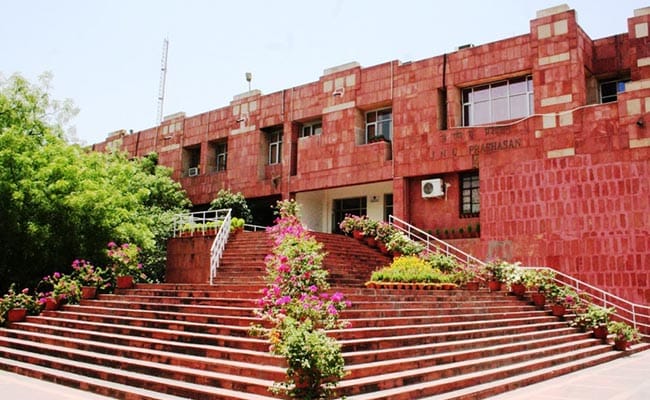 New Delhi:
Jawaharlal Nehru University (JNU) administration registered an FIR against 24 students from the university alleging that the students misbehaved with Vice Chancellor Jagadesh Kumar on February 27. The FIR also accused the students of wrongfully confining the VC to Rector's office on that day. The FIR was registered on Wednesday in Vasant Kunj (North) police station based on a complaint filed by JNU registrar. Additional DCP (South) Chinnmoy Biswal told PTI that the students misbehaved with the VC after ending their blockade of the Administration building on February 27.
Students were protesting and
blockading the university administration block
from February 9 on the issue of the implementation UGC notification in the varsity.
The complaint said that the students were adamant on talking to Mr. Jagadesh Kumar, who was unwell at that time. The complaint also stated that the students did not allow the doctor who was called to attend the VC to enter the room.
"The next day, a girl student said she would commit suicide if Kumar did not meet the students. When the V-C met the students, they "misbehaved" with him, it said", said the PTI report.
But the students reacted harshly against the administration claims.
"Vice Chancellor is branding the students as criminals and he wants to put us in jail. Students were protesting peacefully during all those days without any physical violence towards any officials and staffs", reacted Hisham Ul Wahab P, a student activist from the University.
"Even teachers, staffs and workers are cooperating with students in the protests. But, VC with his Sangh agenda, now targeting students from marginalised communities after many moves including suspension and fear-mongering", added Hisham.
(With Inputs from PTI)
Click here for more
Education News