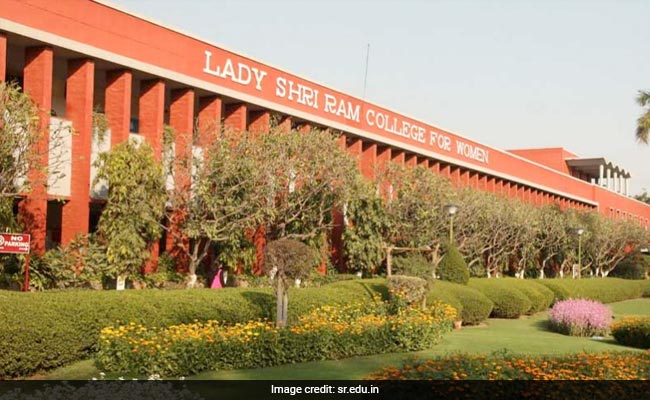 New Delhi:
The cumulative list of third cut-off for Delhi University's undergraduate courses' admission is expected to be out anytime soon. According to reports, University of Delhi has completed admission to half of its seats for merit based courses and more than 25,000 are up for grabs while the students are waiting for the third cut-off list, which is expected to be released on Thursday and Friday. One of the most sought after college under Delhi University (DU), Lady Shri Ram College for Women has released its third cut-off today evening and the list shows slight dip compared to the second list the college published last week.
The college had already completed admission to BA (Honours) Hindi, BA (Honours) History, BA (Honours) Philosophy, BA (Honours) Sanskrit, BA (Honours) Sociology, BA Programme, BCom (Honours), BSc (Honours) Mathematics and BSc (Honours) Statistics before the second cut-off list was published.
LSR reopened the BA (Honours) Economics admission process in general category after keeping it closed for the second cut-off list. It has kept the cut-off unchanged for the admission in general category with 97.5 per cent for BA (Honours) Economics course.
For BA (Honours) English Course, LSR brought the cut-off down to 97% from 98% while it reduced the cut-off to 97.5 in BA (Honours) Journalism course. In second Cut-off it was 97.75.
In BA (Honours) Political Science, the cut-off is 97.25, with a difference of 0.25 percent.
In BA (Honours) Psychology, a student need 98.00 while it was 98.25 in the second list.
DU UG Admission 2017: LSR College Third Cut-off
Check LSR's complete third cut-off here: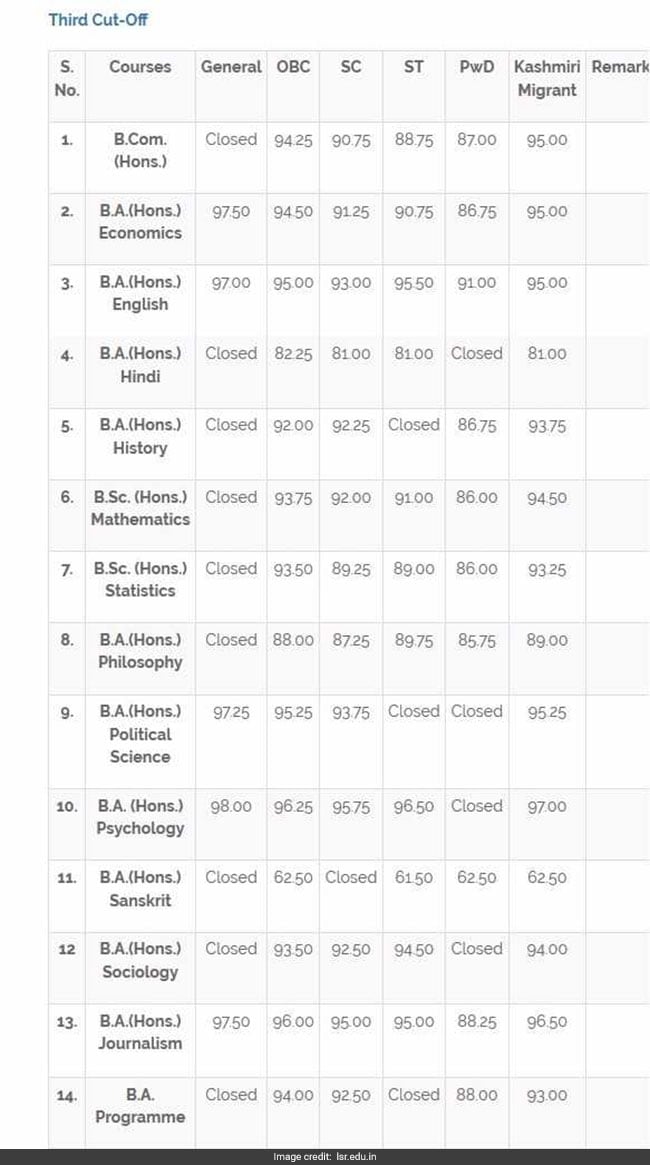 Earlier today,
Shri Ram College of Commerce (SRCC)
released the third cut off list for admission to BCom (Hons) and BA Economics (Hons) courses. While seats have been filled up for general and OBC categories, the cut off is still high even for unreserved categories. For BA Economics (Hons) the cut off for SC category is 93.5%. For completing the admission formalities candidates can contact the college authorities between 9.00 am to 1.00 pm. Admission to BCom (Hons) course has been closed for SC category, as well.
According to reports after the admission drive on the basis of second cut off, more than 50% seats have been filled in most of the campus colleges. Though,
it was expected
that the third list will see a substantial dip in the cut off percentage, with colleges like LSR keeping the cutoff high for most of the courses, most colleges to colleges may release their third cut-off with marginal dips.
Click here for more
Education News