New Delhi:
Exactly six days after Diwali, Chhatth is celebrated in Bihar and by people form Bihar all over the world. Yesterday, on October 25, people who are called 'vrati' or the one who will be keeping fast, prepared traditional feast which in northern regions of Bihar comprise a special rice dessert made with milk and jaggery, and fried puris and in southern regions of Bihar include 'dalpitthi' which are specially made rice dumplings dipped in cooked dal. The main attraction, however, remain the last two days when families flock river banks or flocks to worship the Sun.
On the second last day, the worshippers would offer their respect to the setting sun and on the last day, the rising sun would be worshipped.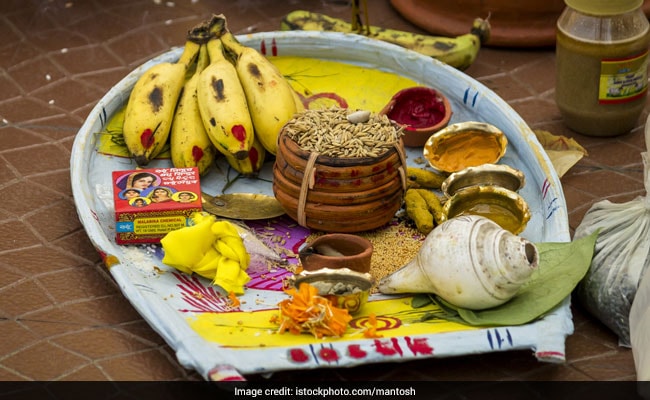 Offerings for the Sun God on the occasion of Chhath Puja
Just like for Bengalis settled or living away from Bengal, Pujo or Durga Puja is a time of collective nostalgia, Chhath is the time for a collective nostalgia for students and professional living away from Bihar.
Speaking about his memories of Chhath Puja, Atmjeet Verma, a Quantitative Research Scientist based in Mumbai said, "From Lauki chawal of Nahay khaaye, to Kheer with Jaggery on kharna , making thekua and other sweets for Puja, cleaning and decorating ghats with friends and relatives, the divine folks of Chhath Puja is all imprinted inside me. It's not just a Pooja but a cultural tour which is rooted in every single Bihari family and not just Hindus. Even when you are not home the folk voice of Sharda Sinha makes your soul travel to the beautifully decorated ghaats. The sunset becomes special with Soorya Pooja. A chance to meet all your neighbours and rich culture is difficult to miss.
I particularly love the morning puja. Before sunrise the light decoration is none less than Diwali but even bigger when such large number of families celebrate it together. You see little kids playing around, taking Prasad from everyone possible. I couldn't make it this year but my heart travelled along with the lakhs of people in packed trains, and thinking of doing all the stuff I used to do in chhath."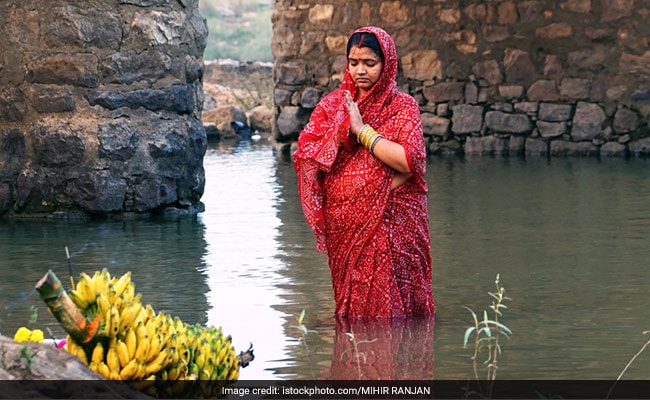 A woman offering prayers on Chhath Puja
Completely bitten by the nostalgia bug, he added, "I know even without me, my family will perform one of the hardest vrat for my happiness and prosperity."
For students living away from home, this time is particularly difficult. While students in Bihar have a holiday around the time of Chhath, students who study in other states do not have the same privilege and either have to miss classes or make do with pictures and videos of the Chhath celebration shared by their friends and family members.
Aarya who works in Mumbai recalls how when she was studying at a college in Delhi she would miss Chhath celebrations at home because of the practical and semester exams schedule. Now that she has started working, she applies for a leave and books her tickets in advance in order not to miss the Chhath festivities at home.
The Chhath festivities would end on October 27 this year and then would begin another year of countdown for many who would hope to attend Chhath puja next year.
Click here for more
Education News
Follow NDTV for latest election news and live coverage of assembly elections 2019 in Maharashtra and Haryana.
Subscribe to our YouTube channel, like us on Facebook or follow us on Twitter and Instagram for latest news and live news updates.