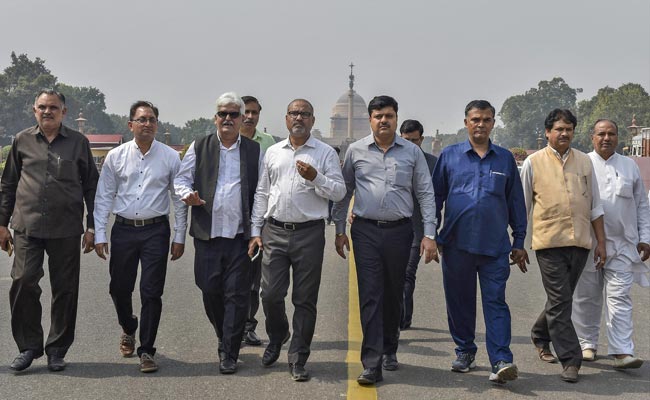 New Delhi:
Following the alleged assault on Delhi Chief Secretary Anshu Prakash, a joint forum of employees and officers of the Delhi government today met Cabinet Secretary PK Sinha and assured that they would work through formal written channels of communication, but will continue to observe five minutes of silent protest at lunch, until the political executive takes tangible action.
The joint forum apprised Mr Sinha about the "difficult working condition" and detailed instances over the past few years. The forum also sought administrative and moral support.
"The Cabinet Secretary gave a patient hearing to all officials and officers present and acknowledged that they are working in a difficult environment. He assured all employees of complete administrative and moral support," according to a statement.
"However, he cautioned that citizens should not be put to inconvenience and delivery of services should go on, to which all the officers assured complete dedication," the statement added.
Delhi's ruling AAP today also urged government officers to not obstruct work as doing so would affect governance. Saurabh Bharadwaj, chief spokesperson of AAP's Delhi unit also said the cases relating to the alleged assault on Mr Prakash and the attack on Delhi Minister Imran Hussain and Delhi Dialogue Commission's vice-chairman Ashish Khetan are being investigated by the police.
Mr Prakash was allegedly assaulted by AAP MLAs in front of Chief Minister Arvind Kejriwal and his deputy Manish Sisodia at the CM's residence on the intervening night of February 19. The officers said a peaceful silent protest of five minutes would be observed at lunchtime 1:30 pm till the political executive takes tangible action to assure them that their personal dignity and safety will be assured during meetings.
Lt Governor Anil Baijal today met with Union Home Minister Rajnath Singh and briefed him on the tussle between AAP government and its bureaucracy. The meet comes a day after Mr Kejriwal and his cabinet colleagues met the Lt Governor seeking his intervention to ease the tension.
Yesterday, a Delhi Police reached Mr Kejriwal's residence and seized a hard disk containing CCTV in connection with the incident.
(With inputs from PTI)