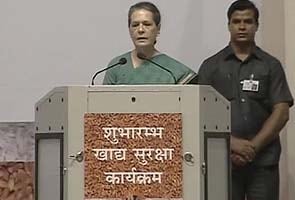 New Delhi:
Even though the Congress failed to table the Food Security Bill in Parliament today, Congress president Sonia Gandhi today launched the party's ambitious scheme in Delhi. Food Minister KV Thomas, Delhi Chief Minister Sheila Dikshit and other Congress leaders were present at the launch which was done on Rajiv Gandhi's 69th birth anniversary.
"This was the dream of Rajiv Gandhi. We have to be responsible for lives of the poor and that is why the Food security Bill was introduced. We wanted to make the poor self-dependent," Mrs Gandhi said in her speech.
"I am happy that the Delhi government is rolling out this historic scheme," she added.
The issue of missing files related to the coal allocation scam today led to chaos in Parliament with the BJP launching a direct attack at Prime Minister Manmohan Singh and blocking the government's bid to push its landmark Food Security Bill.
The Food Bill will now be taken up in Parliament on Thursday.
The BJP said it would not let Parliament run until Prime Minister Manmohan Singh explained how crucial files connected to the illegal allocation of coal blocks to private companies went missing.
But the government has ruled out any statement by the PM.
Delhi Chief Minister, meanwhile, told NDTV that the Opposition's move to stall the bill is tragic. "We are doing no wrong; we haven't violated any code of conduct. The Food Bill was a part of the Congress manifesto," Ms Dikshit said.
The Chief Minister had earlier said that Delhi government will provide benefits under the scheme to 73.5 lakh people in the city out of the total population of 1.68 crore.
The state government has also decided to include homeless people, daily wage-earners, rag-pickers, people living in resettlement colonies and slum clusters in the first phase of implementation of the scheme.
Elections are scheduled to be held in the state in November, and Ms Dikshit has already asked all Congress MLAs and councillors to publicise the food bill effectively.