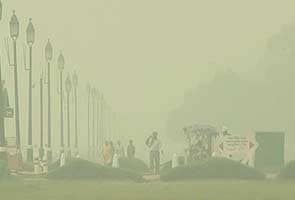 New Delhi:
It was a cool Wednesday in Delhi with the maximum temperature registering 29.3 degrees Celsius, even as shallow smog covered the city during most of the day. The Met office has forecast similar weather outlook for Thursday.
"Smog cover over Delhi is normal in November. There has been no let-up in the smog because of the lack of winds. The Delhi sky would be clear by Thursday night," India Meteorological Department (IMD) Director Jenamani told IANS.
Mr Jenamani said the smog has been denser this year due to high pollution and sluggish wind motion from the surface till about 4,000 metres above sea level.
The day's minimum temperature was 14.3 degrees Celsius - average for this time of the year - while humidity levels wavered between 93 and 37 percent.
The Met official said similar weather conditions were in store for Delhi on Thursday with light mist in the morning followed by a clear and sunny sky.
The maximum and minimum temperatures are expected to hover between 28 and 14 degrees Celsius on Thursday.
Tuesday's maximum temperature was recorded three notches below average at 26.9 degrees Celsius, while the minimum temperature was a notch below average at 13.8 degrees Celsius.