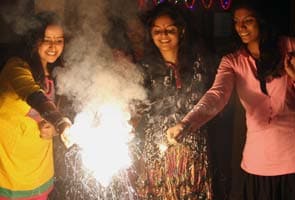 New Delhi:
The smog situation in Delhi has seen a slight improvement, especially after Diwali, when experts believed the situation could worsen.
It was relatively a clean morning after Diwali with the level of dust particles in the air going down and the visibility level improving. According to the Pollution Control Board, the visibility level this morning was 1000 metres.
The board said this was a cleaner and better Diwali.
Delhiites too welcomed decrease in the pollution levels. "Kinda happy the Diwali this year caused less pollution. I was worried the smog would cause trouble while driving but it was cool," tweeted Vaibhav Kanwal. "Thank you Delhi 4 using less fireworks ? May b premature but I think pollution (Noise & Environment) was less this year?" said another tweet from Naveen Kumar Shahi.
Slight mist and shallow fog is, however, expected to return. The MeT department has said that temperatures are not likely to witness sudden dip.
The week-long smog during the festival season had dangerously elevated the level of fine particulate matters, affecting people with asthma and other breathing disorders.
Experts say the city saw a sharp increase in the pollution levels during this period, as high as seven times the permissible limit.
Officials from Delhi, Punjab, Haryana and Uttar Pradesh attended a high-level meeting on Saturday to discuss ways to tackle the smog problem. The meeting was chaired by Delhi Chief Minister Sheila Dikshit.
The Chief Minister has said her government is contemplating a number of short and long term measures to improve the air quality in Delhi.
The city might soon announce a slew of measures like levying a fine of Rs. 2,000 on polluting vehicles and setting up check posts on borders with Haryana and Uttar Pradesh to restrict entry of vehicles not destined to Delhi. Currently, a fine of Rs. 1,000 is levied on vehicle not having a pollution under control (PUC) certificate.