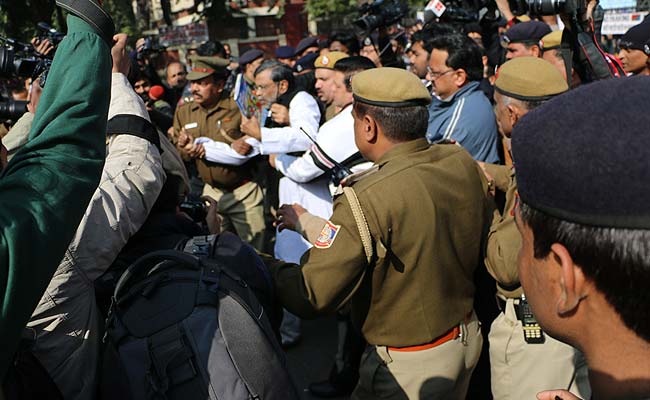 New Delhi:
A large number of policemen today swooped down on a protest in Delhi against church attacks, and dragged activists, including priests and nuns into buses. Some alleged that they were attacked with batons.

Christian groups were protesting outside the Sacred Heart cathedral in central Delhi when the police arrived. Scores of protesters were manhandled and bundled into buses, their bags, shoes and other belongings left scattered on the road.

Father Dominic Emanuel, the spokesperson of the Delhi Catholic Archdiocese, was also forced into a bus and taken away. An elderly woman, who lay on the road, was picked up by four policewomen and thrown into a bus.


"Shame on the police. We were only trying to highlight the attacks on churches. The Prime Minister speaks on everything, why not on this?" said a furious priest.
A disproportionately large police force outnumbered protesters and the commotion caused traffic jams in one of the capital's busiest commercial areas, situated not far from top government offices, the Parliament building and ministers' homes.
"We are detaining people. No one has the right to protest on the road. They can't just march to the home minister's residence. We have to protect the residence of VIPs," said senior police officer Mukesh Kumar Meena.
Activists, some of them holding crosses and rosaries, chanted "We want Justice" and held up posters that said: "Stop violence against Christians." They later met the home minister and asked for action against church attacks in Delhi; there have been five since December.
In the latest incident earlier this week, the St Alphonsa's Church in south Delhi's Vasant Kunj was vandalised. The police called it robbery and even filed an FIR or First Information Report citing a break-in.
A church in west Delhi's Vikaspuri was vandalized last month. The police said three men caught on camera and arrested were drunk and attacked the church on a dare.
Some Christian groups suspect a pattern of orchestrated attacks, and say the police are undermining them.