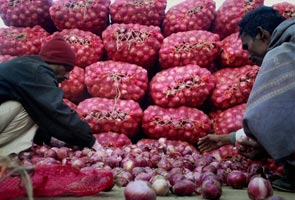 New Delhi:
Price of onion, which is being sold at Rs 45-47 a kilogram at nearly 400 selected outlets
including Mother Diary stores in the city, is likely to come down by Rs 10 a kg within the next few days.
Top officials of Delhi Government said the Centre has agreed to provide 300 metric tonnes of onion to Delhi from the total quantity of around 1,000 metric tonnes being imported from Pakistan and it would be sold through the select outlets.
"We will start receiving the imported onion from January 7, price of which should be around Rs 33 per kg. If we add the transportation and labour costs, then the rate should not be more than Rs 36 a kg," they said.
Chief Minister Sheila Dikshit hoped that the arrival of 300 metric tonnes of onion will help bring down the rates.
"I am sure the prices will come down within next few days. The onion from central quota will arrive here in two-three days' time," Dikshit said.
To provide relief to people reeling under skyrocketing prices of onions, Delhi government on December 23 had begun selling the vegetable at nearly 400 outlets, including those
of Mother Dairy, across the city at Rs 40 per kg against the then market price of Rs 60-70.
Currently, the onion at these select outlets are selling at Rs 45-47 per kg against the market price of Rs 60-65 a kg.
Dikshit said food and civil supplies department has been carrying out raids to ensure that hoarding and black marketing of the commodity do not take place.
Asked why the government has failed to bring down the retail prices of onion, she said lakhs of shops sell the commodity and market forces only determine the retail price.
Delhi Cabinet, presided over by Dikshit, also reviewed the onion prices and availability of the commodity in the city.