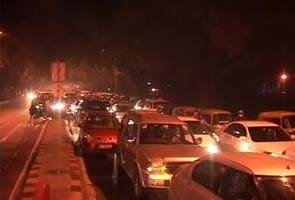 New Delhi:
It is Diwali weekend, and it has brought along with it massive traffic jams all across Delhi.
There are reports of people being stuck in huge jams, some for over an hour, while on their way home from work.
There is bumper-to-bumper traffic even outside 7 Race Course Road, the Prime Minister's residence.
"I am here for the last 45 minutes. There could be some VIP movement or accident," said a man stuck in the jam outside 7 RCR.
"I am standing here for the last 35 minutes. There is massive jam at all over," said another.
There is bumper-to-bumper traffic on the Moolchand flyover in South Delhi; right next to it, on the Ring Road, traffic is barely moving from Lajpat Nagar towards Ashram.
Traffic is also said to be crawling from Chanakyapuri towards India Gate. "I am coming back from college. I have been stuck in the jam for a half an hour," said a commuter.
Jams, which are over half an hour long, have also been reported from Akshardham in East Delhi.
There are also kilometer long traffic lines while coming from Gurgaon to Delhi.
To help ease the situation, traffic policemen can be seen at most places trying to help guide vehicles.
Micro-blogging site Twitter is abuzz with people venting out.
Major traffic jam #Delhi

- HKM (@eatpreylov) November 9, 2012