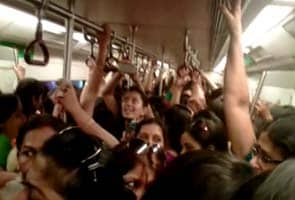 New Delhi:
Fines from men travelling in women's only coaches have swelled Delhi Metro coffers by a staggering Rs 32 lakh in the two years since the rule was introduced on October 2, 2010, an official said.
In August alone, 1,538 men were penalised Rs 3.8 lakh but they continue to break the rule with impunity, the official said. This, in spite of the fact that the first coach of each train is reserved for women only and this is prominently marked on both the train and on the platform.
"Since the introduction of reserved coaches, 12,757 men have been fined Rs.3,189,250 for unlawful entry in the last two years," a Delhi Metro official told IANS.
Initially, Delhi Metro collected Rs 200 each from men flouting the law. The fine was raised to Rs 250 in November 2010 after policemen nabbed and thrashed several men travelling in a women's-only coach.
"Flying squads conduct surprise checks almost every day to catch errant commuters. These initiatives are for the convenience of travellers. But these can be successful only with commuters' cooperation," the official, who did not want to be named, said.
The Central Industrial Security Force, which guards metro stations, and the Delhi Police also form Bunch Domination Group squads, comprising women constables, to randomly board women's-only coaches to catch offenders.
Delhi Metro also distributes leaflets with its helpline numbers and those of nearby police stations to commuters, especially women.
"Moreover, passengers can always press the emergency alarm button available in all coaches and talk to the driver," said the official.
Around 450,000 women passengers use the Metro every day on weekdays, while during weekends the number drops to 325,000.
To view this from another perspective: In the two-and-a-half years till July 2011, a total of 19,325 commuters were fined Rs 34 lakh for various offences like obstructing officials or travelling beyond the authorised distance. This makes men travelling in women's coaches the biggest offenders.
Delhi Metro collects fines ranging from Rs 200 to Rs 500 for various offences like obstructing officials from performing their duty, travelling beyond the authorised distance, sitting on the coach floors, interfering with means of communication, defacing Metro property, creating nuisance and drunkenness.
Officials said the Delhi Metro Act provided for a Rs 5,000 penalty for commuters obstructing doors, but this provision not yet been enforced.
But, officials added, they may have to press the charge more vigorously now, as several instances of train doors being obstructed by commuters have been reported in the past few months.
"We have put out messages in certain crowded Metro lines like the one from HUDA City Centre to Jahangirpuri and the other from Noida City Centre to Dwarka Sector 21 informing commuters about the fine for door obstruction. This, we hope, will act as a deterrent," the official said.
Delhi Metro runs around 2,700 train trips and carries more than 18 lakh passengers a day on work days.