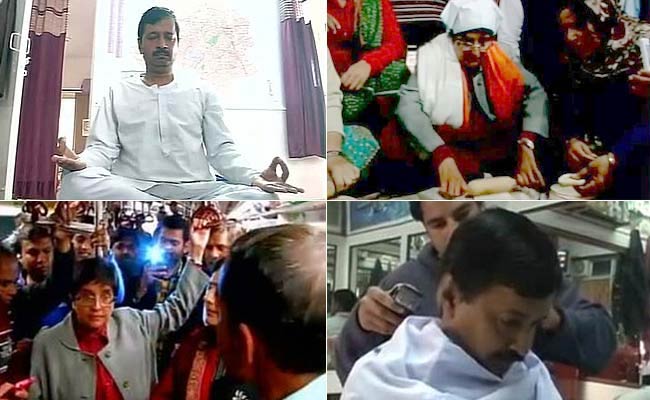 New Delhi:
After weeks of the heat and dust of the campaign trail, a day before Delhi votes, the chief ministerial candidates of the BJP and the Aam Aadmi Party or AAP spent a quiet though hectic day.

BJP's Kiran Bedi started off her day with a visit to a Gurudwara in her constituency, Krishna Nagar, even stopping by to lend a hand at the langar. She later made a brief appearance at a press conference by Arun Jaitley at the party office. Late evening, Kiran Bedi travelled on a jam packed metro.

Her arch rival Arvind Kejriwal's morning yoga moves got everyone talking. Before hitting the road, he got himself a haircut in full media glare. He visited Gurudwaras, temples, a church and a Sufi shrine where people thronged him for selfies, for which he politely obliged. His choice of visiting the Sacred Heart Church, had political undercurrents, as a day before large scale protests against church attacks in Delhi saw heavy handed police action.


While Mr Kejriwal chose not to make any political comments, he still took a dig at Prime Minister Narendra Modi. Speaking to NDTV on US President Barack Obama's statement on growing religious intolerance in India, he said "I think Mr Modi should answer this. They are very good friends."
The AAP's volunteer cell had a busy day too with the party launching a helpline for people to report liquor and cash distribution. Party's media cell in charge, Ankit Lal, told NDTV that in about a day they had received 450 calls on the number, of which around 200 calls were found to be genuine.
"People have also been sending us videos and WhatsApp messages to complain which we are passing onto the Election Commission. We want to end this practice of cash and material distribution in elections," Mr Lal said.
While the two parties battled it out for photo ops, the Congress's chief ministerial candidate Ajay Maken spent the day indoors stepping out for an AICC meet with party president Sonia Gandhi.