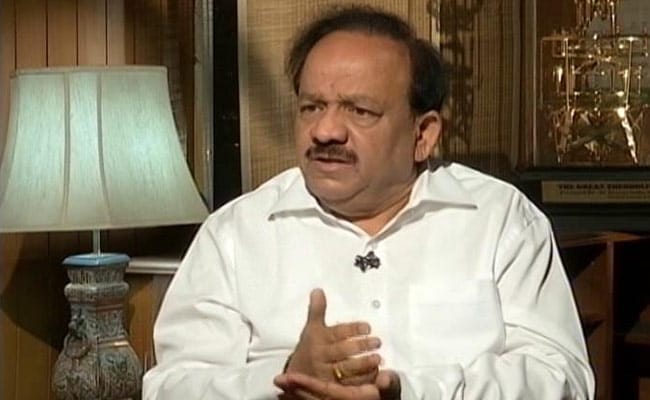 New Delhi:
Union Environment Minister Harsh Vardhan on Thursday flagged off five buses fitted with air-filters, which trap the pollutants in the air, as a pilot project.
He along with his Delhi counterpart Imran Hussain also formed 52 rapid action teams consisting of over 250 officials from the centre and Delhi government to control air pollution and check environment-related offences for the next 10 days.
Designed by Faridabad-based Manav Rachna Innovation and Incubation Centre (MRIIC), the project proposes to ply 30 more such buses in Delhi. The buses flagged off on Thursday are meant to carry school children.
The buses clean atmospheric air through filters --Pariyayantra -- fitted on their roof. The filters don't require any power to operate and are equivalent to filtration provided by six room air-filters, said the developers from MRIIC.
The developers said these air filter units can be mounted on the roof of any vehicle, including auto-rickshaws and two-wheelers.
"As the vehicle moves, air passes through the holes in front of the device. During experiments, we found the filters can trap up to 98% of the particulate matter," said Professor BS Gill, leader of the research team.
Meanwhile, the minister raised concern over deteriorating Delhi's air quality, saying "the weather conditions, stubble-burning and festival season will deteriorate it further".
The minister flagged off 52 teams comprising over 250 officials from the Ministry, Delhi government and Central Pollution Control Board (CPCB) and Delhi Pollution Control Committee (DPCC).
Of 52 teams , 44 will report to 33 SDMs posted in Delhi. The Ministry officials said that more than one team is being posted at the pollution hotspot, like Rohini and Dwarka.
"Pollution rises around Diwali and it is important to check it. While many teams of CPCB are already active, 44 additional teams will monitor different regions of Delhi, while 8 teams will be active in NCR cities to keep a check on garbage burning, construction and others," said Harsh Vardhan.
The minster said in the wake of the toxic air of Delhi and NCR, several teams have recommended that rules on construction activity and garbage burning are strictly adhered to.
"On the implementation scale of 10, Delhi scores 4.63, Noida 7.36, Faridabad 5.01, Gurugram 3.93 and Ghaziabad 3.77 (the higher the score, better is the implementation of anti-pollution measures)," the minister said.