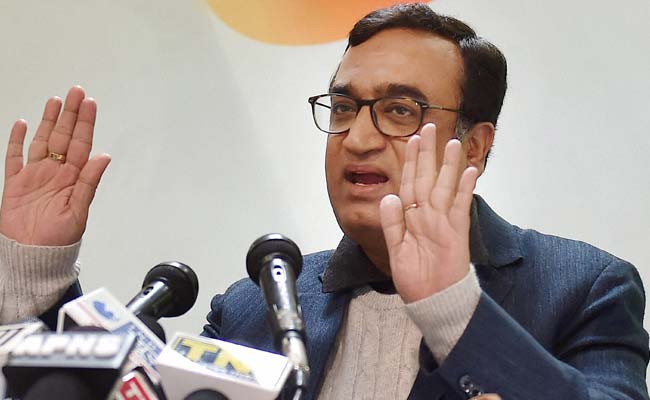 New Delhi:
Delhi Congress chief Ajay Maken on Monday claimed that the number of government school students in the national capital who passed the CBSE class 12 exam has fallen under the AAP government's time.
In a tweet tagging Delhi chief minister Arvind Kejriwal, Mr Maken said when the Congress was in power, 1.47 lakh students passed from government schools.
"My challenge is that like previous year this year also you could not break this record. Do not lie, see how number of students passing from private schools has increased while those from government schools has gone down," the Congress leader tweeted.
Delhi education minister Manish Sisodia has congratulated the city
coming in the third place
after Chennai and Thiruvananthapuram with a pass percentage of 90.64 per cent, which is 2.37 per cent higher than last year at 88.27 per cent.
In support of his claim, Mr Maken tweeted the number of students who passed from government schools compared to private school in the last few years.
The data fished out by the Congress leader showed that 1.47 lakh students had passed CBSE Class 12 exam compared to 76,000 from private schools in 2013-14. In 2017-18, the number of students who passed from government schools was 1.09 lakh whereas the number was 91,000 in case of private schools.
Congratulating the students, Mr Kejriwal has said they achieved success despite many hurdles. The Aam Aadmi Party has claimed that it has managed to improve Delhi's education system to a great extent despite difficulties it faced from its critics, and amid the showdown with the central government over various policy decisions.
Prince Kumar, the son of a bus driver
with the Delhi Transport Corporation, topped the CBSE Class 12 examination in the science stream in Delhi government schools, and among the many congratulatory messages he received was one from Manish Sisodia.
Another class 12 student who found mention in Mr Sisodia's tweets was Prachi Prakash, who topped the commerce stream in Delhi government schools.