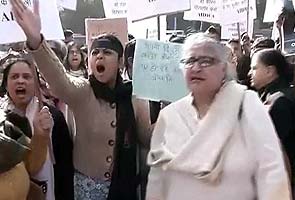 New Delhi:
Taking suo motu cognisance of the shocking case of the gang-rape of a 23-year-old girl in a moving bus on Sunday, the Delhi High Court today asked the Police Commissioner to a file status report on the case within two days.
The court also approved the setting up of five fast-track courts for tackling rape cases in the city.
Chief Minister Sheila Dikshit had yesterday urged the Chief Justice of Delhi High Court to take "urgent" action in making the fast-track courts functional.
She said the city government had already approved setting up of the fast-track courts to deal with the cases of sexual assault on women and to provide speedy justice and conviction of the guilty. Ms Dikshit said the courts have not been made functional despite the Delhi government conveying the High Court about its approval to the proposal in October.
Referring to the gang rape and brutal assault on the girl on Sunday evening, Ms Dikshit suggested to Justice Murugesan that bail should not be given to those involved in heinous crimes against women. "This would additionally act as a strong deterrent," she added.
The Chief Minister said her government would extend any possible support required in making the courts functional at the earliest.
The girl, a paramedical student, was raped and brutally assaulted before being thrown out of the moving vehicle with her male friend.
"This is a shocking incident and we will take all necessary action to ensure that such incidents do not recur in future. At the same time we need to have deterrent punishment to the perpetrators of such crime against women," Ms Dikshit said.
(
With PTI inputs
)