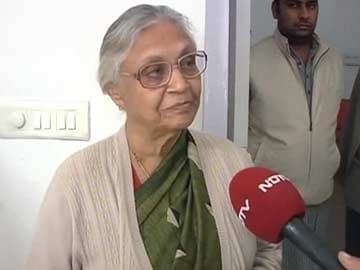 New Delhi:
Outgoing Delhi chief minister Sheila Dikshit, who was dealt a stunning defeat in the state election, today blamed her own Congress party for not giving her enough support.
About Arvind Kejriwal, the man who not only ended her 15-year rule but also defeated her in her own constituency, Ms Dikshit said she had no advice to give him, "he is much wiser than I am."
Mr Kejriwal, dismissed by Ms Dikshit as the "man from Ghaziabad" and his non-party, defeated the three-time chief minister by some 25,000 votes. The Congress was also reduced to a poor third with just eight seats in the 70-member assembly, compared to the BJP's 31 and the Aam Aadmi Party's 28.
Assessing her defeat, the 75-year-old leader told NDTV, "I felt I did not get enough support from my party in Delhi." The Congress in Delhi has been wracked by infighting for years, but it was obscured by the party's successive victories in the capital.
"I am glad that the leadership noted this," she added, alluding to Congress leader Janardhan Dwivedi's comment that "for five years the Delhi government and Delhi Congress were not on the same page."
Ms Dikshit denied that the drubbing reflected on her government's failure. "We tried our best to control prices. I don't agree the power bills was an issue. I'll be the first one to clap if power bills are brought down."
Other parties made unrealistic promises to bring down the bills, she said, without naming Mr Kejriwal or his Aam Aadmi Party (AAP), who made water and power bills the focus of their campaign in Delhi.
Asked if her government took the brunt of anti-incumbency sentiment against the Congress in Delhi as well as the Centre, Ms Dikshit replied, "Certainly I can say our 15 years has no anti-incumbency." She kept silent on the Centre.
Get Breaking news, live coverage, and Latest News from India and around the world on NDTV.com. Catch all the Live TV action on NDTV 24x7 and NDTV India. Like us on Facebook or follow us on Twitter and Instagram for latest news and live news updates.