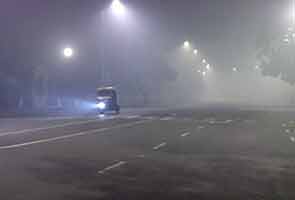 New Delhi:
Over 100 flights were affected today due to this winter's first dense fog which engulfed the Indira Gandhi International (IGI) airport in New Delhi, disrupting air operation and causing inconvenience to passengers.
Flight operations virtually remained suspended for about two hours, between 7 AM and 9 AM, after dense fog descended at the airport. Runway visibility dropped suddenly from 700 metres to less than 50 metres on all three runways.
With runway visibility being far less than the required minimum limit of 125 metres (for smaller aircraft) and 150 metres (for bigger aircraft), no flights were taking off, an airline official said, forcing airlines to hold back flight departures.
As flight operations remained suspended for two hours, it led to a delay in schedule of over 40 flights which had a cascading effect on the schedule of other flights.
Over 100 flights, during the day were delayed, three flights including an international one were diverted while three flights were cancelled, airport sources said.
The situation started to improve after 8.30 AM when visibility rose to 300 metres. The general visibility on the main runway (which is the most preferred runway during foggy days) was 50 metres while the runway visibility was 75 metres.
At one time, the runway visibility dropped to zero at one end of the third runway.
"Delhi airport witnessed dense fog from 3.30 AM till 10 AM today. All the runways had CAT-IIIB and CAT-IIIC dense fog at 7 AM when runway visual range suddenly dropped from 775-900 metres to just 75 metres. It improved at 9 AM when the visibility on main runway first rose to 330 metres and on third runway to 100 metres at around 10 AM," Airport MeT in-charge RK Jenamani said.
Fog cover, however, remained over the airport and the city all through the day as more fog advanced from the eastern side.
"It was a very sudden transition, as till yesterday Delhi was not having any fog. Even shallow fog or smog was missing for last the 42 days due to strong winds," Mr Jenamani said.
Dense fog conditions are likely to start from midnight tonight and visibility could dip below 50 metres at around 3 AM, he added.
Airport operator Delhi International Airport Limited (DIAL), alongwith all stakeholders like airlines, air traffic control, ground handling staff and others, has taken a host of measures to meet any situation arising due to fog.
Some of the measures include Air Traffic Control (ATC) scheduling slots for departure of flights in advance based on the MeT forecast and airlines prioritising their flights and planning boarding as per the slot, which would reduce inconvenience to passengers.
DIAL and airlines have made adequate arrangements for food and drinks for stranded passengers.