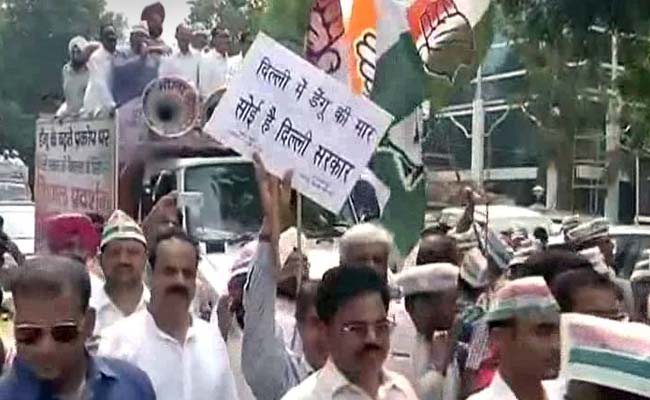 New Delhi:
Delhi Congress workers today staged a protest outside Chief Minister Arvind Kejriwal's residence in Civil Lines area against the Aam Aadmi Party (AAP) government's alleged failure to control rising cases of dengue.
Leading the protesters, Delhi Congress president Ajay Maken accused the government of being completely unprepared to tackle the situation.
"It is unfortunate that even when Congress an opposition party took lead in awareness for prevention against dengue, Delhi government did nothing in this regard in time," said Mr Maken.
Senior Congress leader PC Chacko termed the situation as an emergency. He said, "This is first time that people are dying and the government is busy arranging for beds. Thousands are affected from the disease while there are no beds, medicines and test kits in the hospitals."
Former Delhi Health minister and Congress leader Kiran Walia said, "We used to prepare for prevention against dengue holding meetings with MCD and health officials at least six months before the disease outbreak... Preparation for preventive measures and treatment facilities should have begun in May but the Chief Minister was busy with CYSS (AAP's student outfit) and rock concert."
Scores of Congress party leaders and workers marched in procession from Parmanand hospital in Civil Lines to Mr Kejriwal's residence in North Delhi.
According to the data available with the municipal corporation, 613 cases of dengue have been reported in the last one week and a total 1,872 patients have tested positive for the mosquito-borne disease till September 12.
As per the official data the number of people dead stands at five, while according to the records of hospitals in the city, 15 deaths have been reported so far.