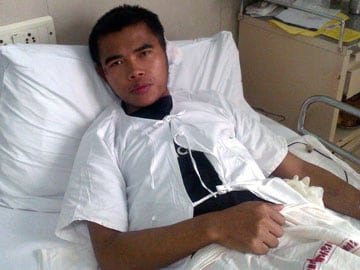 Two youths from Manipur were allegedly beaten with sticks in the Ambedkar Nagar area of south Delhi last night in an incident which further reinforces growing concerns over the safety of people from the northeastern region in the national capital.
Two juveniles were this evening apprehended in connection with the attack, police said.
Ginkhansuan Naulak (24) and his cousin Vumsuanmung Naulak (25) were attacked by a group of unidentified bike-borne assailants at around 8:30 P.M. last night.
"While the duo, who had gone to the market to buy chicken, were returning home, two passers-by passed racial slurs.
"They confronted them but, after a brief altercation, left the spot. But while they were going home, a group of assailants, including the earlier duo, came on bikes and attacked them with sticks," said a police official.
They fled the spot after the attack. The injured youths somehow managed to reach AIIMS where Vumsuanmung was discharged after first aid while Ginkhansuan is still undergoing treatment at the Trauma Centre.
"Ginkhansuan suffered a laceration in his left ear and needed stitches... Apart from that, he also has minor bruises all over his body and has complained of stomach ache," said one of his friends.
Doctors treating him said that his condition is stable.
The victims have informed the police that the attackers were not known to them. They added that the assailants also did not rob them.
A senior police official, meanwhile, said that two juveniles have been apprehended in the case.
Police will conduct a test identification parade (TIP) in this regard tomorrow. They are also looking for any CCTV footage of the area as part of efforts to identify the culprits.
Delhi Police Commissioner BS Bassi said that a case has been registered in the matter.
The attack comes close on the heels of the death of Nido Tania, a youth from Arunachal Pradesh, after he was allegedly assaulted by some shopkeepers in the Lajpat Nagar area and follows the rape of a 14-year-old Manipuri girl in south Delhi's Munirka.