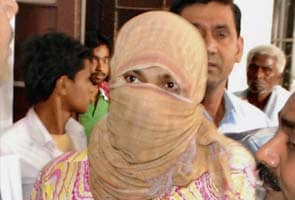 New Delhi:
The 22-year-old man who kidnapped, brutally raped and mutilated a five-year-old girl in Delhi earlier this week has told the Delhi Police that another person was involved in the crime, sources have told NDTV.
The accused, Manoj Kumar, had even claimed this in a Bihar court after he was apprehended from hometown Muzaffarpur yesterday, sources said.
The Delhi Police has, however, denied arresting or looking for the second accused in the case.
Manoj will be produced in a Delhi court tomorrow.
He had recently married and his wife had left for Muzzafarpur a few days before the crime. He had fled to his hometown thinking the girl had died, said police. They tracked Manoj by tracing his mobile phone.
The five-year-old was kidnapped on Monday while she was playing outside her home, and was then kept captive in the basement of the same building where she lived by a man who rented a room there about a week ago. On Wednesday evening, it was not the police but neighbours who found her after they heard her cries.
The attack on the girl was barbarous - she was violated with pieces of a candle and a bottle. She is currently conscious, stable and alert, according to the doctors treating her at the All India Institute of Medical Sciences (AIIMS). (
Read: Five-year-old stable, say doctors
)
There is growing anger on the streets of Delhi over the savage rape. There is much anger towards the Delhi Police as well after the father of the five-year-old alleged that that not only were the police unable to find his daughter for three days, but that when she was rescued by neighbours, the cops offered him Rs. 2000 to buy his silence. He was allegedly told to be grateful that his daughter was still alive.
Activists yesterday protested outside the Delhi Police Headquarters alleging the cops had failed to act in the case. They demanded that Delhi Police Commissioner Neeraj Kumar resign, saying he "failed to tackle the rape crimes" in the city.
Pressure is also mounting on the police after Assistant Commissioner of Police BS Ahlawat was on Friday caught on camera slapping a woman protester, who was demanding justice for the girl. While the ACP has been suspended, since then many have been demanding that he be arrested and prosecuted for his brazen show of strength. Protesters are scheduled to gather at the India Gate later this evening to demand his arrest.