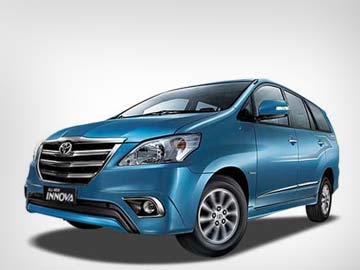 New Delhi:
The 180 police stations across Delhi are set to be equipped with the swifter, roomier and cool-looking Toyota Innova vehicles, with the staid old Gypsies being relegated to the background.
Delhi Police already have around 600 of these multi-utility vehicles being used as mobile patrolling vans. Now the Innovas are set to be given to the inspectors heading each of the police stations in the national capital.
Delhi Police have requested the union home ministry to provide Innovas to all station house officers, sources told IANS.
The police force has sent a proposal in this regard to the home ministry for final approval.
The station house officers (SHOs) have been using the white-coloured Maruti Gypsy vehicles for travelling and patrolling in their respective jurisdiction areas. The 180 police stations have a combined strength of 80,000 personnel.
The Innovas will come as a boon, as each vehicle can carry up to 10 people, are faster and the mileage is also better, the sources told IANS.
However, the old Maruti Gypsies will not be discarded.
They will be used by the other two inspectors in each police station. The station house officer is the senior most of the three inspectors, the other two are an anti-terrorist officer (ATO) and an investigation officer.
In the absence of the SHO, the two other officers look after his work by turn, day and night.
Each police station also has two other Gypsies - one used as a quick response team (QRT) vehicle and another as an emergency response vehicle (ERV). These two vehicles are stationed at market places or any vulnerable place round the clock.
The Innova will be an additional vehicle in a police station, which would be welcome as the other officials rarely get a police vehicle to do their work in.
An inspector posted as investigating officer at a police station told IANS that he never got an official four-wheeler to do his running around in.
The officials would usually commute to investigation or crime spots using their own personal two-wheelers like motorbikes, or even for patrolling.
"I use my personal car, or sometimes I drive my motorcycle to reach the crime spot," an officer, who did not wish to be named, told IANS.
Innovas equipped with Global Positioning System (GPS) are now being used as police control room (PCR) patrolling vehicles.
Until last year, the mobile PCR vans used to be Gypsies or Qualis vehicles.
"The Innovas are more spacious than the Gypsy. In terms of speed and mileage, they are also far better than the old vehicles," said the officer.
The maintenance cost of the old Gypsies is also high, and it is difficult to find good mechanics, added the officer.