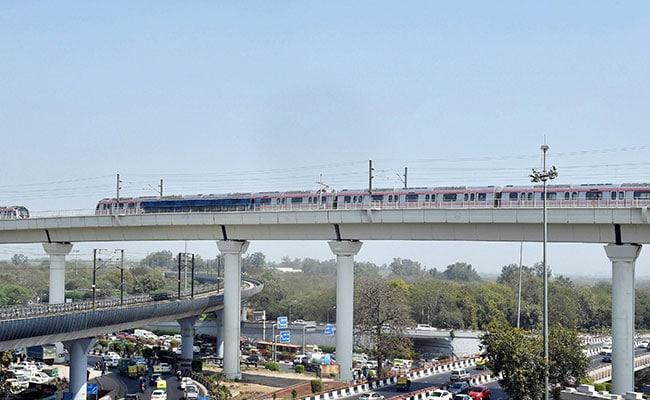 New Delhi:
The over 8 km-long South Campus-Lajpat Nagar section of the Delhi Metro's Pink Line was flagged off today by Union minister Hardeep Puri and Delhi Chief Minister Arvind Kejriwal, linking four major shopping destinations in the city.
Metro service for commuters would begin from 1 pm.
Mr Puri, who is the urban affairs minister, termed the flagging off a proud moment for Delhi.
The 8.10 km-long Durgabai Deshmukh South Campus-Lajpat Nagar section has six stations, including interchange facilities at INA (with Yellow Line) and Lajpat Nagar (Violet Line). The section is billed as a "corridor for shoppers" as it is connected to four major markets of the city. Four major markets of the city will be connected on one stretch of the network that will also cut travel time for commuters by up to 20 minutes.
The new stations are -- Sir Vishveshariah Moti Bagh, Bhikhaji Cama Place, Sarojini Nagar, INA, South Extension and Lajpat Nagar. Only Sir Vishveshariah Moti Bagh station is elevated, and the rest all are underground.
This stretch is part of the 59 km-long Majlis Park-Shiv Vihar corridor (Pink Line) which falls under the Phase-III network of the DMRC.
A total of 23 trains will ply on the route, with a frequency of 5 minutes and 12 seconds during peak hours and 5 minutes and 45 seconds during non-peak hours, the senior official said.
The travel time between INA and Rajouri Garden stations would reduce from 40 minutes to 23 minutes; Lajpat Nagar-Rajouri Garden stations from 45 to 28 minutes and Lajpat Nagar and Netaji Subhas Place (Red Line) from 47 minutes to 39 minutes, he said.
Lajpat Nagar currently served by a station on the Violet Line has a bustling Central Market in its vicinity, and the DMRC is expecting a jump in the station's footfall, once the new station on the Pink Line becomes operational.
Shoppers and regular commuters travelling to INA Market (neighbours Delhi Haat), Sarojini Nagar Market and South Extension Market areas will also save time once the stretch becomes operational.
The new stations have been tastefully decorated, especially INA, Sarojini Nagar, Sir Vishveshariah Moti Bagh and Lajpat Nagar.
The first corridor of the Pink Line, from Majlis Park to South Campus was opened on March 14, connecting the north and south campuses of the Delhi University on the DMRC network for the first time.
The total operational network of Phase-III after opening of this section would increase to 106 km, the DMRC said.
(with inputs from PTI)