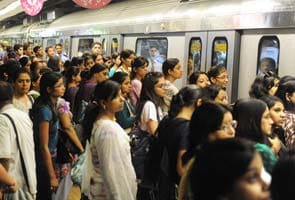 New Delhi:
Delhi Metro rail services will extend up to Bahadurgarh in Haryana by 2016, a metro official said.
The foundation stone for 11.181 km stretch between Delhi's Mundka and Bahadurgarh was Saturday laid at Bahadurgarh sector 9 by union Urban Development Minister Kamal Nath and Haryana Chief Minister Bhupinder Singh Hooda.
"The 11.181-km-long corridor will be entirely elevated with seven stations - four in Delhi and three in Haryana. It will run on standard gauge. The approximate cost involved in this stretch will be Rs.1,991 crore -Rs.1,079 crore for construction of Delhi portion and Rs.912 crore for Haryana portion," a Delhi Metro official said.
The Mundka-Bahadurgarh link is an extension of the existing Metro line 5, which currently runs from Mundka to Inderlok.
"The civil construction work of this corridor is expected to start by July and the maximum length of the trains on this corridor will be of six coaches. The corridor is targeted to be commissioned for commuter services by March 2016," the official said.
In the new stretch, the stations will be Mundka industrial Area, Ghevra, Tikri Kalan, Tikri Border (Delhi) and Modern Industrial Estate, Bus Stand and City Park (Haryana).
The Metro daily ferries nearly 1.8 million passengers and makes over 2,700 trips.