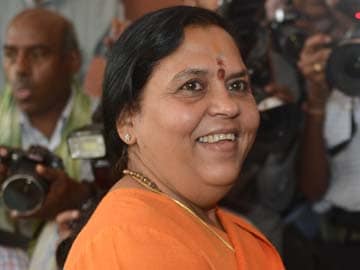 New Delhi:
Close on the heels of the formation of a secretaries-level group to rejuvenate Ganga River, Union Water Resources Minister Uma Bharati today announced a separate committee for cleansing the polluted Yamuna River in Delhi.
"We have already formed a group comprising secretaries from the ministries of environment, transport, tourism and water resources to clean up Ganga. Similarly, we would be constituting a committee of officials from the ministries of Urban Development, Rural Development and Central Water Commission to cleanse Yamuna," Bharati told reporters.
She was briefing reporters after planting saplings on the banks of Yamuna to mark the first anniversary of the tragedy in Uttarakhand last year, in which thousands of people were killed in the devastating deluge.
Pointing out that the officials from the three ministries would focus on developing Yamuna river, she said the people of Delhi would also be part of the programme to make it a people's movement.
"Yesterday, I spoke to Rural Development and Shipping Minister Nitin Gadkari and Urban Development Minister Venkaiah Naidu. I have conveyed to them that the development of Delhi's river banks must be river friendly," she added.
Ms Bharati also reiterated the measures taken by her ministry in the aftermath of unprecedented floods in Uttarakhand in 2013.
"Directions have been given to water resources authorities to issue immediate warnings, if there is a rise in water levels in lakes with an area of over 50 hectare. The information would be passed onto the concerned state governments," she stated.