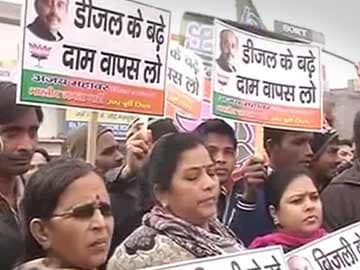 New Delhi:
Criticising the Delhi government for its failure to check power tariff hike, the Bharatiya Janata Party (BJP) today protested against the hike in the national capital.
"(Arvind) Kejriwal-led AAP had promised that after forming the government, they will reduce power price. Instead power tariff has increased by six to eight percent," said BJP Delhi unit chief Vijay Goel.
BSES Yamuna Power Limited (BYPL) has increased its tariff by eight percent, BSES Rajdhani Power Limited (BRPL) by six percent and Tata Power Delhi Distribution Limited (TPDDL) by seven percent after getting the go ahead from the Delhi Electricity Regulatory Commission.
The National Thermal Power Corporation has threatened to stop power supply to BSES Yamuna if the Reliance Infra-backed company does not pay its dues. The company said this would lead to 10-hour daily power cuts.
BYPL told the Delhi government that it was unable to clear the dues of power generation companies due to a precarious cash flow situation.
Mr Goel said that the government must resolve the issue with the power discoms in such a way that auditing must go on and people must not suffer from power related problems.
Condemning the six-eight percent power tariff hike, Mr Kejriwal said on Friday that power companies should have waited for the audit reports of the firms.