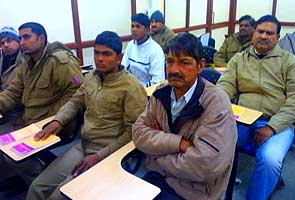 New Delhi:
At a police station in central Delhi, 40 officers of the Delhi Police are spending a third consecutive day learning how to be more sensitive and responsive to crimes against women.
The officers are from across ranks and police stations, but all of them work on crimes such as rape, molestation and sexual harassment on a daily basis.
The three-day gender sensitisation workshop, which wraps up today, comes amid continuing outrage over the gang-rape of a 23-year-old student in a moving bus in Delhi last month and lax policing that failed to stop the culprits as they drove the bus through several checkpoints.
Activists have long complained that India's largely male police force is not sensitive in handling sex crimes and does not investigate such cases properly.
In December last year, a 27-year-old woman in Punjab was driven to suicide after police allegedly refused to register her rape complaint and asked her humiliating questions.
Ranjana Kumari of the Centre for Social Research says: "There is a mindset problem that needs to be addressed. They perceive women by the clothes worn or what time of the night the crime happened. They don't realise the whole environment has changed."
But officers attending the workshop say the police alone cannot be blamed. Sub-Inspector Shashank Tripathi, who is 26 and joined the Delhi Police three years ago, said: "The police are part of the society. Policemen are exposed to the same mindset in their formative years like the rest of the society. So the blame, if any, lies with the society and not the police."
Special Commissioner of Police (Training) S N Shrivastava steers away from the debate and says: "Many people say they have problems in dealing with the police, others say they don't. I don't want to get into that. My job is to try my level best to educate my officers, and the Delhi Police is trying to do that."
Yesterday, the Delhi Police came a step closer to making itself friendlier to women when the Union Home Ministry announced that every police station in the Capital would appoint two women sub-inspectors and seven women constables.
But Prakash Singh, a former Director General of Police, says only a special force to deal with crimes against women can solve the problem. He says those who join this force should be no less than graduates in social sciences.