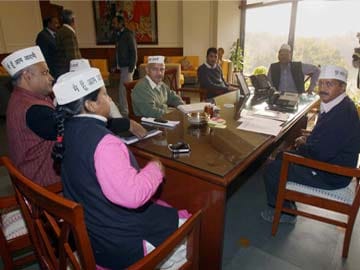 New Delhi:
BJP leader Nitin Gadkari today alleged that a deal was struck between Congress and the Aam Aadmi Party (AAP) to form a government in Delhi. This was done, said Mr Gadkari, to prevent BJP from coming to power. AAP chief and Delhi's new Chief Minister
Arvind Kejriwal
has denied these allegations.
"A deal was struck between Kejriwal and Congress in a five-star hotel, a person (familiar with the development) told me," Mr Gadkari said at a party function in Delhi.
"The man who vowed on his son that he won't take the Congress's support, became the Chief Minister today with that party's support. And none of the Congress leaders were present at the swearing-in ceremony of Mr Kejriwal," the former BJP president added.
Mr Kejriwal was sworn in today as Delhi's seventh Chief Minister at the Ramlila Maidan, a massive public park in the heart of the city. (
Read
) While Congress, which was decimated by Mr Kejriwal's year-old Aam Aadmi Party in the December 4 Assembly elections, decided to give his swearing-in a miss, the BJP was represented by a section of its Delhi unit leaders, including the party's chief ministerial candidate in the recent polls, Dr Harsh Vardhan. (
Read
)
Reacting to Mr Gadkari's statement, Dr Harsh Vardhan said today, "He is a responsible person of the party, he must have said it for a reason. Now you can investigate and find out the truth."
Mr Kejriwal, meanwhile, rubbished Mr Gadkari's allegations saying, "If he is making claims, then he should also give evidence." His party slammed the BJP leader. "Nitin Gadkari knows the art of dealing; he has a good experience in that," AAP leader Sanjay Singh said.