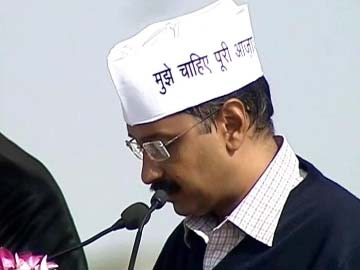 New Delhi:
Arvind Kejriwal
, Delhi's new chief minister, ended an impassioned speech at the Ramlila Maidan on Saturday by singing a Manna Dey song from the 1959 film
Paighaam
.
Written by lyricist Pradeep, the song,
"Insaan ka insaan se ho bhaichaara..."
(let there be brotherhood among people) is a powerful comment on social unity and equality.
A newly-appointed chief minister breaking into a song at the end of his maiden speech is bound to generate interesting reactions. Twitter was abuzz with most people endorsing the act.
At least one politician was not sure.
"Is it true that, other than Gandhiji, Indian political party leaders who sang in public have had dismal track records ;-) ;-) ;-) ?!" Biju Janata Dal leader Jay Panda tweeted.
A crowd of about one lakh cheered the bespectacled 45-year-old taxman-turned-politician through his 20-minute speech, in which he spelt out the rules by which he would govern Delhi, promising an end to corruption.
His now-famous Gandhi topi or cap today bore the legend, "I want complete freedom."
Mr Kejriwal and the six minsters who took oath with him today, rode the metro to reach the Ramlila Maidan They also visited Rajghat, the memorial to Mahatma Gandhi, before beginning work at the Delhi secretariat.