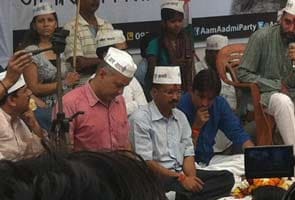 New Delhi:
Accusing Delhi government of not listening to people's problems, AAP leader Arvind Kejriwal today launched his indefinite fast and 'Civil Disobedience Movement' from a north-east Delhi home urging Delhiites not to pay "inflated" power and water bills.
After visiting Raj Ghat and Shaheed Park here, Mr Kejriwal reached the home of one Santosh in Sundar Nagri where he began his fast. He had chosen this house as Santosh had allegedly received inflated bills and had to take loans to pay it.
Mr Kejriwal asked Delhi residents not to pay "illegal" power and water bills, promising that any legal action against them would be revoked once his party comes to power in the city.
"From today, we are beginning this fast. From today, I am not going to pay my water and power bills. These are illegal and fake bills. The Delhi government is hand in glove with discoms," he said.
Mr Kejriwal earlier had announced that his family residing in Uttar Pradesh will not pay the bills in solidarity with the protest.
"The aim of my fast is to rally more and more people against the illegal bills. If I fast, then people will get encouraged. This time we are not asking anything from the government, this time I appeal to Delhiites not to pay bills," he said.
Mr Kejriwal said if more and more people join the "civil disobedience" movement, government and the discoms won't take against them.
AAP National spokesperson Manish Sisodia said there are protests in 64 other places in the capital.