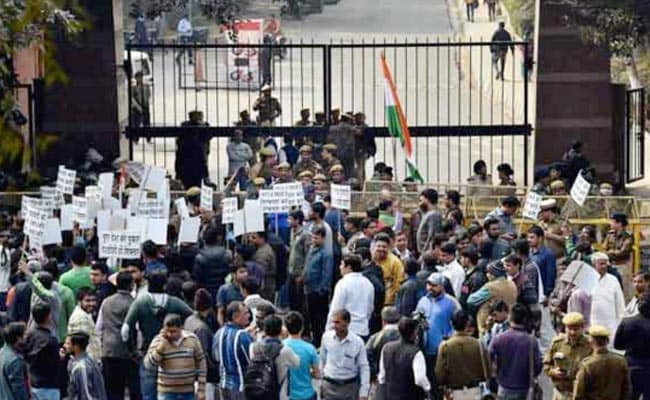 Highlights
Google says it's looking for a solution
Searches for "sedition", "patriotism" lead to JNU on Google maps
JNU students, including Kanhaiya Kumar, were arrested on sedition charges
New Delhi:
A search for key words like "anti-national", "sedition", "patriotism" and "Bharat mata ki jai" on Google Maps is directing users to JNU or Delhi's Jawaharlal University or JNU, where three students, including Kanhaiya Kumar, were arrested last month.
Google authorities, when contacted, said they are trying to resolve the issue, according to news agency Press Trust of India.
"We will raise the issue with the administration to send an official communication to Google in this regard. We have been protesting against the branding of an institution as anti-national and now the search giant has gone a step ahead in certifying that," said Shehla Rashid Vora, who is Vice President of JNU Students Union (Mr Kumar is its chief).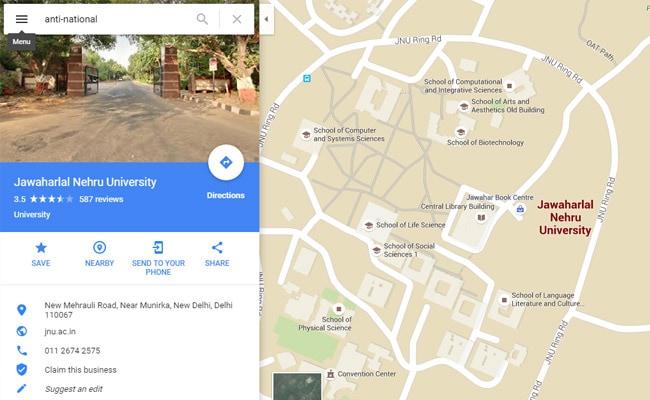 The 28-year-old was arrested a day after a campus event that challenged the hanging of Afzal Guru, convicted for his role in the terror attack on parliament in 2001. Mr Kumar's arrest was followed by that of two others students; all three have been charged with seditious behavior and granted bail.
Mr Kumar's arrest encircled the government in a controversy over whether it is trying to crush dissent and free speech. Bu top ministers have countered that the right to speech isn't unfettered and that those who shout "anti-national" slogans and challenge the integrity of the country will not be spared. That enlarged the debate to what qualifies as anti-India speech and behavior. The latest installment of the long-running controversy was added by Muslim leader Asaduddin Owaisi and others from his party who say they will not say "Bharat Mata Ki Jai", a slogan that they say violates Islam's emphasis on no idol worship.
"When I noticed this on google-maps, I laughed at it. But when I thought of it it seemed dangerous. Dangerous not because it represents my university but for fact that anyone or institution can be termed so through the power of government and MNC's. Will GoogleMaps be answerable for this?," asked N Sai Balaji, a student at JNU.
An unidentified Google spokesperson said, according to the Press Trust of India, "We are aware of the issue and are working on a fix".
A JNU faculty member, who did not wish to be named said, "Though we have strong objections to JNU being referred to as anti-national but since google-maps is throwing same results for patriotism and Bharat mata ki jai as well, it could be a technical glitch too".
Last year, the users were directed to White House when they searched for keyword "nigger house" and Prime Minister Narendra Modi's name reflected in a search of top 10 criminals. In both cases, Google had apologised.