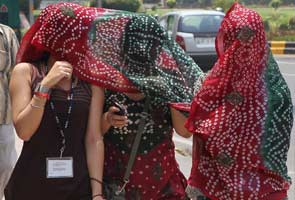 New Delhi:
Sunny weather continued in the capital on Sunday and the maximum temperature settled three notches below the season's average at 33.8 degrees Celsius. The Met Office has again forecast rains Monday.
"There is a possibility of light rains occurring in parts of the city tomorrow (Monday)," said an official of the India Meteorological Department (IMD) here.
The maximum and minimum temperatures are expected to hover around 33 and 27 degrees Celsius.
Sunday's minimum temperature settled at 27.9 degrees Celsius, average for this time of the season.
The IMD had forecast light rains in the capital Saturday as well but the skies remained clear through the day. The maximum and minimum temperatures settled a notch above the season's average at 35 degrees Celsius and 28.3 degrees Celsius, respectively.
Monsoon arrived in Delhi a fortnight ahead of schedule June 16, but the city has not received much rainfall since then.
According to the Met office, heavy showers are not expected for at least another week due to the "weak monsoon" caused by the low atmospheric pressure.
In addition, the moisture and wind, which come from Bay of Bengal and Arabian Sea and cause rain, are not getting converted into precipitation either.
Get Breaking news, live coverage, and Latest News from India and around the world on NDTV.com. Catch all the Live TV action on NDTV 24x7 and NDTV India. Like us on Facebook or follow us on Twitter and Instagram for latest news and live news updates.