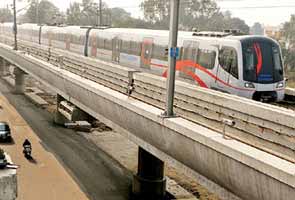 New Delhi:
Airport Metro has resumed check-in facility for domestic and international flyers at the New Delhi station.
At present, Air India and Jet Airways will provide domestic and international check-in facility at the station while talks are on with other airlines that have international services to set up their check-in counters at the station.
The check-in facility was first started in February last year. However, the Airport Metro was shut down last July due to safety issues and it resumed functioning in January this year.
The check-in facility, which started on Friday, will be available at the New Delhi Airport Metro station from 6 AM to 8 PM. Passengers will have to check-in at least two and half hours prior to their flight time.
Passengers on domestic and international flights can check-in and collect their boarding passes maximum eight hours prior to their flight time.
"The city check-in facility at the Airport Metro stations will be highly beneficial for domestic and international airline passengers, who can hand over their luggage well in advance and utilise their time in a more fruitful manner.
"This would be immensely helpful for up-country passengers who wish to catch international flights," a company statement said.
Up-country commuters coming from states like Uttar Pradesh, Haryana, Punjab and Rajasthan can now conveniently check-in their luggage at the metro stations and collect their boarding passes well in advance.
Facilities such as cloak room, trolley and porter service, radio cab service, Wi-Fi connectivity among others are made available at the station for passengers and flyers.
Baggage check-in facility for both domestic and international passengers has been made to ensure hassle-free travel.
Airport Express Line runs daily from 5.30 am to 11.30 pm at a frequency of 15 minutes. Reliance Airport Express Line, the country's first high-speed Metro developed provides connectivity from New Delhi Railway Station to Indira Gandhi Airport (T3).